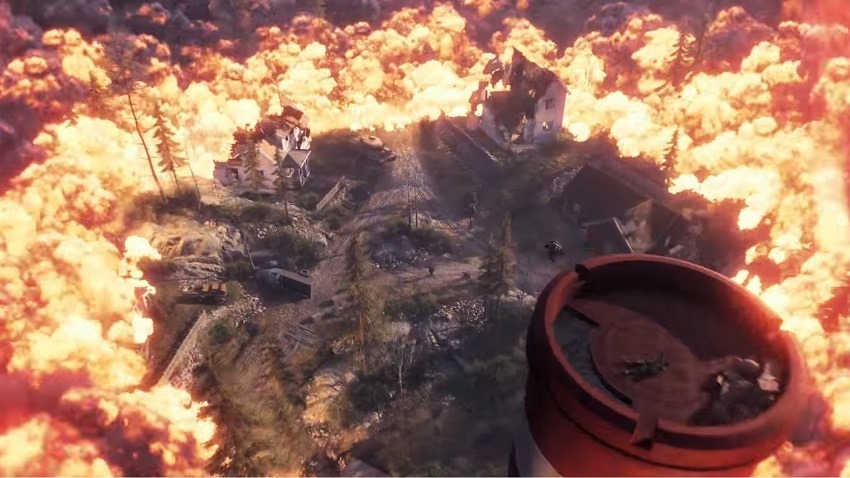 Ever since its reveal, EA and DICE have been talking about the possibilities of including a Battle Royale mode in their big fall release. And that makes sense. You only have to look at the success of Fortnite and PUBG to understand why big publishers are wanting to get their slice of the pie. Call of Duty has Blackout, and now Battlefield V has Firestorm – the now confirmed title for the game's Battle Royale mode which may or may not be out at launch, may or may not feature single play and definitely features a massive ring of fire.
The scant details are down to EA themselves. Even the reveal of the name "Firestorm" is handled as a sort of off-hand comment in today's latest trailer for Battlefield V, which gives us a good look at the rest of the multiplayer gameplay. It looks great, especially with a trailer that sets the tone straight and makes you understand that this is taking place during one of the worst wars the world has ever seen, even if it still looks a lot like Battlefield 1 visually. Take a look.
Firestorm is arguably the most interesting part of the package, if so just for the curiosity around how big studios are cracking the nit of Battle Royale. And Battlefield's take so far seems limited. Firestorm will feature 16 teams of four players each dropping into the largest map DICE has ever created for a Battlefield title. Despite capping itself out at the same number as the game's continuing Conquest modes, Firestorm will feature a huge ring of fire that slowly closes in on players, pushing them closer together for the final, climatic fight.
Not having support for individual play is puzzling though. Most of my play time with both Fortnite and PUBG has been in solo, which offers the most tension in the mode that I've found yet. Things might change, especially with EA and DICE not yet stating outright whether Firestorm will be out by the time Battlefield V is ready for its new November launch. If it's just a dry-run for a mode which might become their core focus depends on how players take to it. Which, if you're a big Battlefield player, might not be hard.
Battlefield V is having its big beta this weekend, which you can access via pre-orders or subscriptions to Origin and EA Access.
Last Updated: September 4, 2018