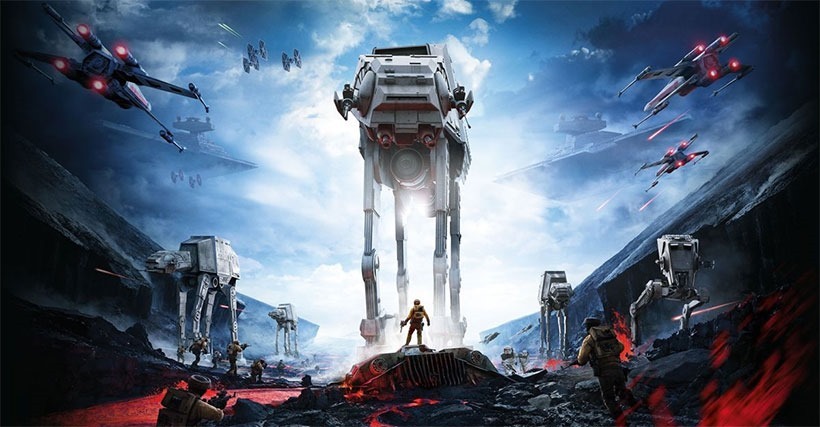 Star Wars Battlefront is a pretty good game, but its lack of a proper single player element made it feel a little hollow in the end. The same could be said for other EA-published shooters, like Titanfall, Plants Vs Zombies: Garden Warfare and other publisher's games, like the exceptional Rainbow Six Siege. People love their games to feel complete – and a single player campaign is important in shooters that make their way to retail.
It's something Activision learned with its last gen, multiplayer-only release of Black Ops 3 – and it's something that EA has now, finally, realised about its own shooters as well.
In its Investor Day Q&A session (via Dualshockers), professional guesser Wedbush Securities Analyst Michael Pachter pulled no punches in asking EA about the quality of its games, saying that the publisher has "blown it" with the NBA brand (which fares poorly in all aspect when compared to 2K's NBA), has "probably killed Medal of Honor," and utterly failed to make a "super-high rated Star Wars game."
EA Studios Executive Vice President Patrick Söderlund addressed the questions- saying that Star Wars Battlefront is doing well enough, and that the reason they skipped a single player campaign was to have the game out in time to capitalise on the Force Awakens.
"So, I would agree with you on NBA, that is something that we struggled with as an organization and so we have a different plan in play right now, but we hope to rectify that. Overall, if you look at our overall portfolio, I would say that we're in good shape.

We are as good or better as the other people in the industry on average. […] Star Wars, I think is a game where you have to look at it from a slightly different perspective. Yes, we know that the one thing that we got criticized for was the lack of a single player campaign in it. It was a conscious decision that we made due to time, and being able to launch the game side by side with the movie that came out to get the strongest possible impact.

I think the team created a really good game based on the premise that we had, and I would say that the game was done very well for us, and reached a very different demographic that a traditional EA game would do. So from that perspective it's a success.

Are we happy with the 75 ratings? No. Is that something that we're going to cure going forward? Absolutely. But I think overall, we look at everything that we do in isolation, but if you take a step back and look at our overall portfolio, it's actually in pretty good shape."
In the same Q&A, Söderlund said that single player campaigns are important for mainstream success.
"In regards to the depth and breadth question, it goes back to the framework I described, where depth and breadth is one of the points that we looked at. And what we learned over the years, is that certain games and certain genres have different requirements for depth and breadth if you want to reach the maximum audience.

The shooter category as an example, we know to be true that in order for a game to truly break out and become really large, you most likely need both a single player campaign where the player can get familiar with the game and practice playing the game, to then hop on and play online.

Other games are more single player focused and may completely lack an online component, and that's rare in our case. […] Overall we believe, and this is something that we're working on on a daily basis, to make sure that the games that we take into market have the right depth and breadth."
The next Battlefront Game, should EA make one that is, will likely feature a single player campaign. I know that I, personally, don't buy multiplayer-only games because I tend to not play online adversarial content for very long, but I may be an outlier in that regard. How important is single player to you?
Last Updated: May 18, 2016