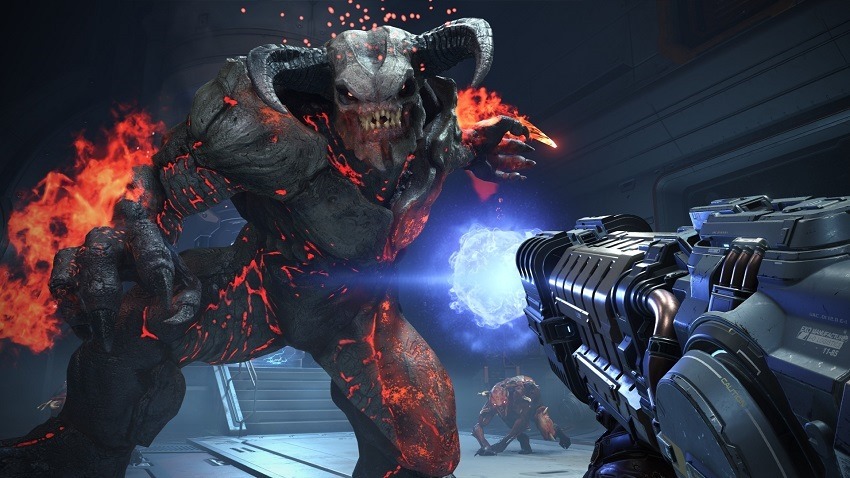 Back in 2016 Bethesda instituted a radical change to their review policy. Starting with DOOM the publisher started only sending out review copies to critics on the day the game released, which lead to a lot of pushback from writers and players alike. They claimed that Bethesda was leveraging their entirely legal right to withhold reviews to avoid negative criticism before pre-orders could fire off, which was succinctly pointed out in various op-eds at the time. But since then Bethesda has quietly reverted back to their previous policy, with Pete Hines explaining that they were simply sick of hearing how bad it was.
Speaking to VG24/7 this weekend at Quakecon, Pete Hines explained that their review policy no longer follows the strict release day rules that they instigated two years ago. Games like last year's Evil Within 2 and Wolfenstein II all made their way to critics well ahead of time, and were both received pretty positively. Hines explained that the publisher soon realised that their move had an adverse affect on the critique of their games, where outlets would focus on the review policy for nearly every review before getting to the product itself. It was irritating, and so Bethesda scrapped it.
"Then it ended up being the focal point and, honestly, we were tired of reading reviews where the first paragraph spent more time talking about our review policy than the game. So we decided we're not going to keep drawing attention to it – we'll send out copies and maybe people will start talking about the game instead of talking about policies. So we did."
This change doesn't apply to their entire catalogue though for obvious reasons. Fallout 76, for example, is all about a massive online populated world, so it wouldn't make sense for critics to have access to it well ahead of time and experience something different to launch. The same goes for their Elder Scrolls Online series and its upcoming expansion. But for its large library of single-player titles, Bethesda seems to have loosened their grip on holding them back, which only serves to benefit players who rely on critical views to help steer their decisions.
Of course that's not to say Bethesda saw problems with their policy in the first place. Since instating it the publisher has experienced some of their best years ever, with incredible games such as DOOM, Dishonored 2 and Wolfenstein 2 wowing critics and players alike despite their possible withholding from critics ahead of time. Bethesda tried something and proved it could be done, but perhaps removing the ability for players to get some insight into games ahead of time was just too poor an idea.
Last Updated: August 13, 2018