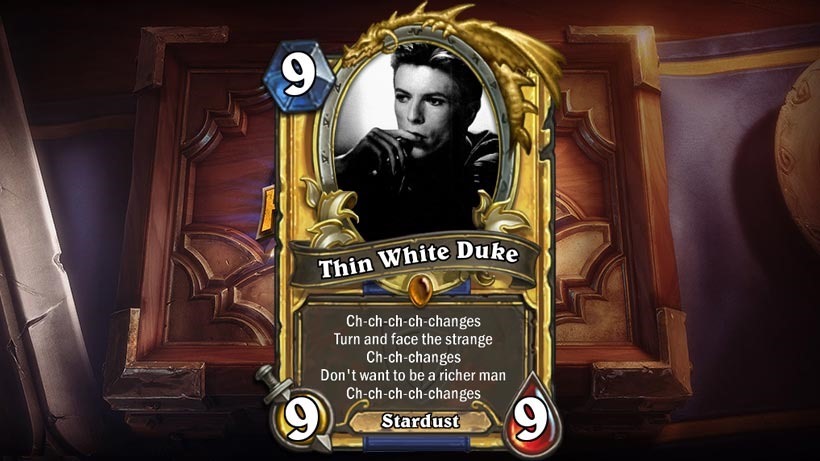 HEARTHSTONE! Originally launched as an alternative card game that wasn't bogged down by years of rule changes, tweaks and massively complex strategies, Hearthstone quickly evolved into just that. That's not to say that Hearthstone is a bad game at all, but it's not as inviting these days to newcomers as it was when it was first unveiled.
There's a big hurdle for rookie players these days, a power gap that is bigger than a squash match between Brock Lesnar and Kung Funaki. Blizzard wants to fix that.
To get players back in, Blizzard will implement some big changes. According to the developer, two new play modes by the name of Standard and Wild will launch in the US spring for Hearthstone that will keep the game "fresh, exciting, and accessible." Blizzard said that their goals for Hearthstone are:
Standard will help make for a more dynamic and balanced metagame.
A select set of cards makes each new card have more impact!
The developers will have more freedom to design exciting new cards.
It lets newer players jump in faster without having to collect as many cards.
"Standard is a new format in Play mode that allows players to go head-to-head using only the most recently released Hearthstone cards," Blizzard wrote.
You'll play Standard using a deck built solely from a pool of cards that were released in the current and previous calendar year, along with a core foundation of the Basic and Classic card sets (which will always be valid for Standard). You'll be matched against other players who are also using Standard decks.
That sounds like a massively improved balancing act already. As for Wild, it's the Extreme Rules version of Hearthstone. "It'll be the format where anything can happen," Blizzard said.
When you queue up for Wild, you'll be cozying up with the crazy fun of Hearthstone you're already familiar with. You'll use any of the cards you've already collected to build a Wild deck and be able to finish quests, earn gold, rank up on the ladder, get card backs, and earn Legend rank, just like you can in Standard.
Beyond this, Blizzard announced that any player who had unlocked all nine Hearthstone heroes would also receive another nine more deck slots, bringing their total up to 18.
Last Updated: February 3, 2016