There's a crucial step most CS:GO players make when on the path to improving – leaving matchmaking behind. Valve's matchmaking servers are great for a few kicks with friends, but for the players with the aspirations of competing there are other ways to improve. Firstly, Valve's servers are 64tick, and competitive servers are 128tick. What this means is that your aim is more critical on faster servers as the tickrate dictates the registry of your bullets. That's an extremely brief explanation, but it will make sense in a bit.
So where do you go once you're tired of the players in matchmaking? Well, there are retake servers, you can try get into mixes on private servers with better players, or you can make use of Billosoft, a PUG (pickup game) system filled with players who are mostly better than you are at Couter-Strike.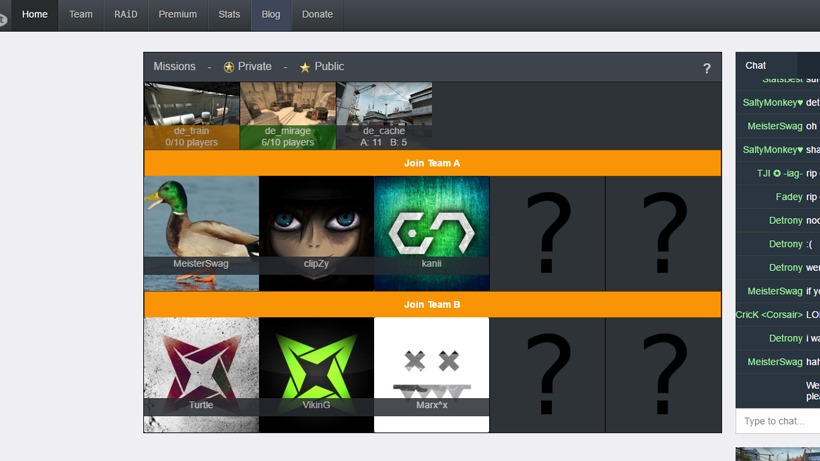 Billosoft is a website where you're able to enter a lobby in a PUG system where you're placed on a private server with competitive settings. This means 128tick and forced rates. It places you into a much more competitive environment as opposed to the face-rolling on matchmaking. Billosoft has existed for the past three years as a passion project for Casper Alant. He has developed and maintained the entire system himself, and it has done South Africa a lot of good. I met Casper while working at the Mega8 Autumn Cup and was surprised to learn that this entire system was his own, a one man army. So why is Billosoft so important?
Besides putting players in a more competitive environment, Billosoft is packed daily with most of South Africa's best CS:GO players. Facing off against them can be trying at times, but number of players I've seen improve (myself as well for a short time) is incredible. Billosoft has a stat tracking system as well so everyone is playing their hearts out, or baiting teammates for a better KPD, in almost every single match. Sure, there're a number of players who still make it unpleasant, but overall it's a great system for improving your CS:GO.

My stats are terrible, please don't judge.
Billosoft has also bred a number of well-known names in the local CS:GO community. Teams are always on the lookout for some new talent, and that's how we've come to know names like Dean "Massacre" Davis (who plays for Flipsid3 South Africa), Aran "Sonic" Groesbeek (although this was on Intoxicated, a system before Billosoft), and Rieghardt "flexee" Romantzki (who is probably one of the most well know and controversial names in local PUGs). These are just some of the players who made a name for themselves in the local PUGs and there are many more like them. All of them have proved themselves on LAN as well, which is a telling factor when distinguishing between online heroes and those who can actually back it up.
Systems like Billosoft are breeding grounds for young talent, but the system far exceeds that. In the most recent tournament, Mega8 Autumn Cup, the entire competitive system was built by Casper which included map vetos and other fixes such as player disconnects which plague competitive games even on an international level. More players who want to improve need to start moving away from matchmaking and making use of systems such as Billosoft. Who knows what talent is lurking in matchmaking currently unaware of the existence of pick up games?
Last Updated: April 19, 2017