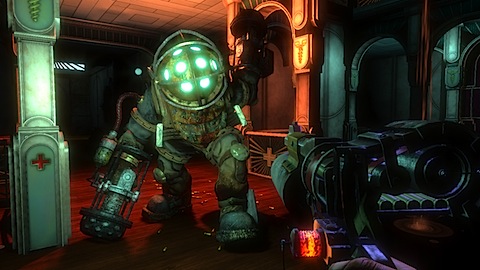 Even before the console wars between fanboys epically battling across the web and exchanging 'comment-blows' through the blogosphere, there has been another feud. That feud has existed between Mac and PC users.
now most may know that Mac's largest shame has always been its lack of gaming sector for their home computers. Although recently they've making some serious leaps and bounds in the casual/mobile sector, they've pretty much pooped their pants as far as hardcore gamers go.
Final as from October 7th Mac users around the world can shed a tear of appreciation as they can buy their own copy of the critically acclaimed BioShock.
For those of you who've been living under a rotten Apple somewhere without even a Wii to keep you company, here's some of the gaming awesomeness you're in for:
Amongst many other fine points BioShock boasts an insane world called Rapture loaded with awe-inspiring characters, insane enemy A.I. and moral choice gameplay that makes for great re-play value. This is definitely a must have FPS.
Just so you know the game will feature a 'minimal spec' version as stated below as well and retails for around $49.95.
"1.8 GHz Intel Mac, 1.5 GB RAM, 128 MB graphics card, DVD drive, 8 GB of hard disk space and Mac OS X v10.5.8 or later. The game does not support Intel GMA integrated video chipsets, but does run on the latest generation of MacBooks and Mac Minis"
Source: electronictheatre
Last Updated: September 27, 2009