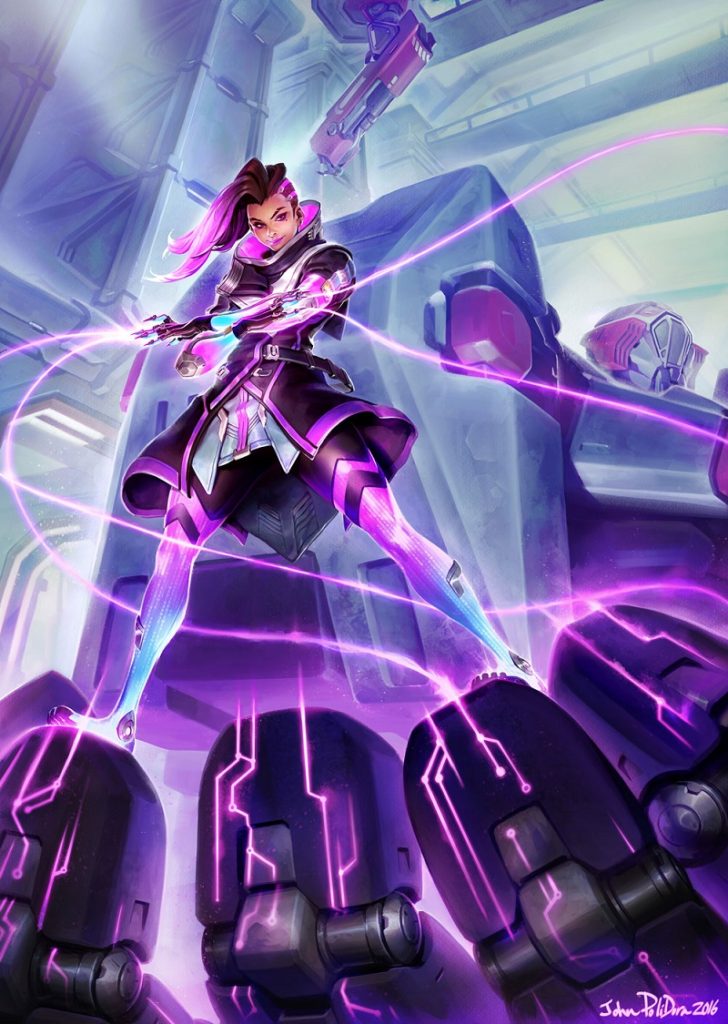 We've spent an unbelievable amount of time waiting for Blizzard to unveil Overwatch's 23rd hero, Sombra. After months of teasers and ARGs, they've finally done just that.
At BlizzCon 2016, we were treated to what looked to be an Overwatch montage. But out of nowhere, bringing the show to a standstill, our purple haired hacker made her debut.
In a new animated short called Infiltration, we see Sombra, along with accomplices, Reaper and Widowmaker, attempting to do something dastardly at what looks like Volskaya Industries. The evil duo hit a snag (a Svyatogor to be exact), and are forced to leave the dirty work to our newly revealed hacker.
Stealth and debilitating attacks make Sombra a powerful infiltrator. Her hacking can disrupt her enemies, ensuring they're easier to take out, while her EMP provides the upper hand against multiple foes at once. Sombra's ability to Translocate and camouflage herself makes her a hard target to pin down.
Machine Pistol: Sombra's fully-automatic machine pistol fires in a short-range spread.
Hack: Sombra hacks enemies to temporarily stop them from using their abilities, or hacks first aid kits to make them useless to her opponents.
Thermoptic Camo: Sombra becomes invisible for a short period of time, during which her speed is boosted considerably. Attacking, using offensive abilities, or taking damage disables her camouflage.
Translocator: Sombra tosses out a translocator beacon. She can instantly return to the beacon's location while it is active (including when it's in mid-flight).
EMP: Sombra discharges electromagnetic energy in a wide radius, destroying enemy barriers and shields and hacking all opponents caught in the blast.
Sombra will be added to the PTR as soon as next week. Along with her, Overwatch is getting a new arcade mode, and an additional map.
Thanks for putting us out of our misery, Blizzard. That tease will go down in history I'm sure!
Last Updated: November 4, 2016