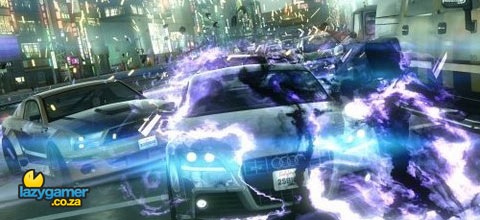 I managed to get my hands on a Blur beta key and sat down last night for a quick race to see how the game is getting on before getting back to the important business of Battlefield Bad Company 2.
I have never hidden the fact that I am not much of a racing fan but Blur is not much of a racing game.
Granted you race cars around a track against other people but that is where the boring start ends and the fun begins.
Blur is an incredibly addictive, fast paced action title that takes place inside a car. Simply being the better natural driver is no reason to believe you are going to win any races in Blur.
Blur is all about using the power ups correctly and aggressively to ensure maximum damage is done to your opponent while attempting to pull of ever more spectacular drifts, jumps and shots to gain extra fans throughout the race.
The ranking system in Blur works on fan power, the more fans you get the quicker you rank up and you get fans by blasting other cars from the road and pulling off special moves. The more spectacular the better.
Normally in racing game I entirely ignore the rear view mirror as I only really care about the road in front, with Blur your rear view mirror becomes your best friend and there isn't a better feeling in gaming than looking into your rear view mirror, seeing koldFU5iON coming up to overtake and then watching his car explode in a shower of power after you nailed him with a perfect shot.
Yes you can shoot backwards…
4 hours later I ran out of beer and had to go to bed, sorry Battlefield but I am not sure you are going to get a look in tonight either.
I played the 10 player games mostly and the lag was rarely an issue, in one of the games people were jumping around the track but even then it didn't ruin my enjoyment of the round, the maps are awesome and the cars are unique.
I love my bright pink Camaro, it handles like a dog but it can take a hit.
Last Updated: March 12, 2010