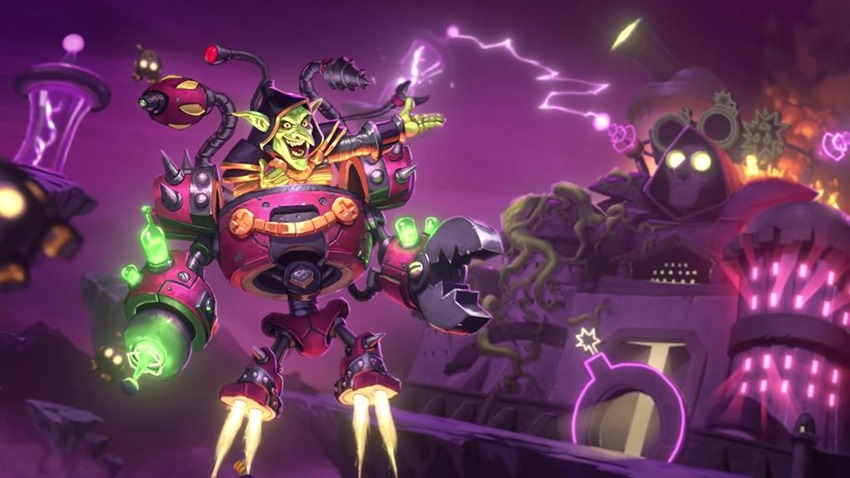 HEARTHSTONE! Blizzard's popular free card-battling game is still going strong these days, and it's managing to do so without the need for an anime series starring a protagonist with the silliest hairstyle around that looks like it was poached from a late 1980s rock star. Or motorcycles. CARD GAMES ON MOTORCYCLES!
Hearthstone's current landscape will son be altered once again with the next evolution of the metagame, as a brand new expansion is due for release next month. August 7 will introduce The Boomsday Project, unleashing 135 new cards into Hearthstone and going all in on the mad science. Of those new cards, nine of them will be brand new legendary spells, with players able to make use of new "magnetic" cards to summon Mech minions that can combine their skills to form Voltron.
I mean, some other massive mechanised engine of destruction that won't get Blizzard sued by Netflix. As for spells, a new effect called "Project" will come into play, which gives players a mutually beneficial increase in mana crystals and a project that'll help you out when your opponent plays a spell card. Like the Magnetic cards, combining is the key theme here as project sets are assembled.
For new spells, players can activate Omega cards that add a further boost to your arsenal if you happen to have 10 mana crystals to spare, perfect for those players who enjoy turtling and building up their hand. As for the story, it'll be you exploring the puzzle lab of Dr Boom as his latest intern, experimenting with various scenarios that the mad scientist has concocted.
Sounds fun, and if you can make it through all 100 puzzles, you'll have a chance to face the explosive doctor himself in a showdown for the ages. The Boomsday Project hits Android, iOS and PC next month, with the Puzzle Lab arriving on August 21.
Last Updated: July 11, 2018