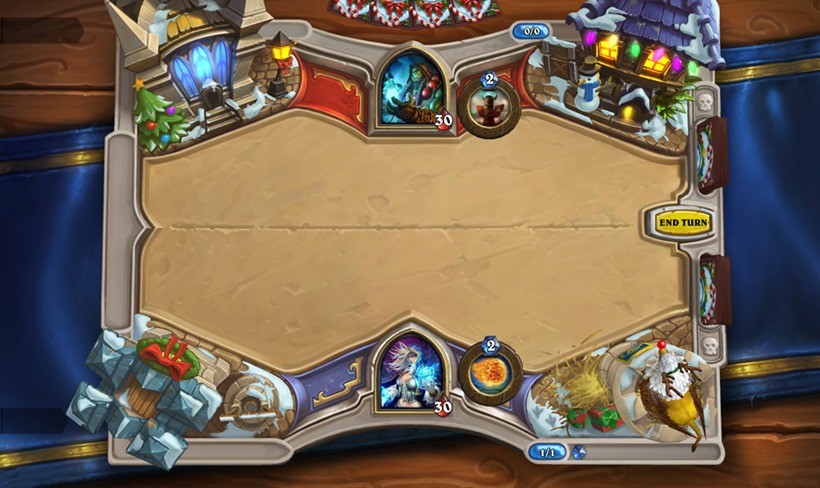 The year is winding down to a standstill, which of course, means just about every popular game played today will be receiving a whack of festive season content. Blizzard's annoyingly addictive, rage-inducing card game, Hearthstone, is no different. It's getting a whole lot of extra chill via the Winter Veil celebration.
Before we go on though, let us sing the official song!
Oh the weather outside is frightful,

but the Inn is so delightful.

With our decks all good to go,

Play Hearthstone! Play Hearthstone! Play Hearthstone!
I have no idea how that is meant to be sung, but at least we're all in the right frame of mind now, right? Now I want you to read the following  blurb from Blizzard, right after you've had a good long stare at the boiling hot sun outside*…
Greatfather Winter and his billowing cloak have cast the chilly weather of Winter Veil over the Hearthstone tavern. Now that the ice and snow have arrived, it's a great time to grab a steaming mug of something tasty, wrap up in a warm blanket, and cozy up to the fire for a few fun rounds of Hearthstone.

Fluffy snow has settled on the eaves and gables of Stormwind and ice over Orgrimmar. During Winter Veil, from the 9th of December through the 6th of January, you'll get to see each game board decked out in its holiday best. Every Hearthstone hero has gotten into the spirit of the season, and each one will sport a new jolly holiday Greetings emote!
Yeah no. I will not be grabbing a blanket, or cozying up to a fire. Also, the next person to greet me with "Happy Feast of Winterveil" will have a swift retort thrown in their face. HINT: it involves magic, tearing, and apart.
Anyhow, besides game boards being themed accordingly, there is festive special to take advantage of. If you cough up €44.99 for the usual bundle of 40 classic card packs, Blizzard will throw in 10 extra at no additional cost! Please hold while I consult Google to calculate just how much that it is in Randelas…
Ok so, at time of writing, that neat winter special will only set you back a casual R750. I hope Santa brings me sacks filled with money, because if he doesn't, there is no way I will be able to afford that bundle!
Thankfully, there are more Winter Veil festivities to come. I only hope they don't involve driving people into bankrupcy. Otherwise, the new boards look great – I've already had a ton of fun shooting off snowballs at my opponent's face via catapult.
*please do not actually stare directly at the sun!
Last Updated: December 10, 2015