This weekend saw the final leg of the ESWC Counter-Strike: Go qualifiers here in South Africa. The action all took place at the Electronics and Gaming Expo, which was held at the CTICC in our very own eSports hall. 10 of South Africa's top teams arrived on Friday the 29th to enter the "Second Chance" Qualifiers, a double-elimination bracket to decide which four teams would meet Bravado, CarboN, Damage Control, and Flipsid3 in the Quarter Finals.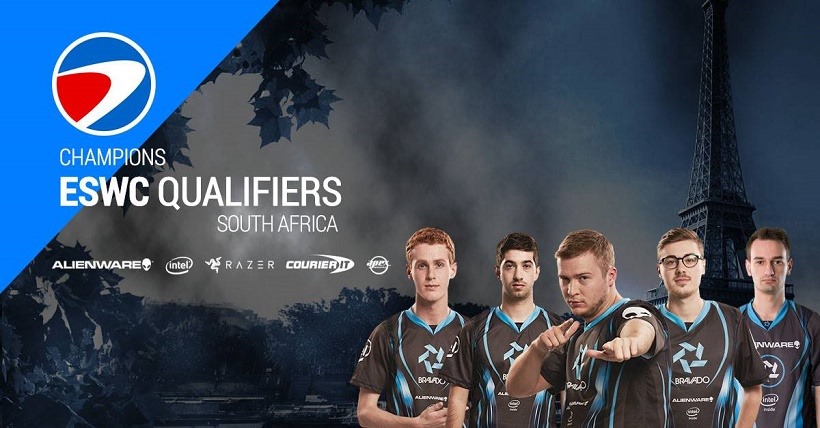 Bravado Gaming, ESWC Qualifier Champions
Fan favourites Aperture Gaming soared through the qualifier not dropping a single map, taking down Energy eSports, and Flipsid3 South Africa to secure their spot in the semi-final. Aperture were the only team not in he original invited four to make it into the final stages of the tournament where they unfortunately met Bravado Gaming, their toughest opponent yet.
Unfortunately for Aperture Gaming, Bravado came ready and knocked them out 2-0, sending them home after an extremely successful tournament. On the other side of the bracket Damage Control met CarboN, a team comprised of young players extremely quick on the trigger. We all knew this was going to be an amazing series as Damage Control are known for their methodical, precise play, while CarboN's aggressive nature would almost definitely add to an already exciting atmosphere. The series ended 2-1, with CarboN securing their spot in the Grand Final vs. Bravado Gaming.
The Grand Final
Mirage
CarboN decided to give the casters a treat by picking Mirage as the fist map. We'd seen these two teams before on Mirage, and we knew it would be an amazing showcase, and it was. The first map was neck and neck as Bravado employed their slow, methodical movements on the Terrorist side to slowly snuff out the aggression from CarboN. CarboN are somewhat known for their aggressive playstyle, but the addition of their coach, Spoof, adds a sense of resilience to the young side. Trying to remain composed on their CT side, Bravado's patience seemed to get the better of CarboN as round after round they were punished while looking for information. The slow play from Bravado allowed them to use their precise aim to take down any and every CarboN member who came looking for information.
Only when CarboN switched it up on CT, opting for a more aggressive approach, did they get rounds on the board. When the switch over to Terrorist arrived, CarboN came in hot. The managed to tie the scores up at 12-12 before Bravado Gaming locked it down, ending the game on a fantastic two-man AWP by Detrony.
Cache
After losing the first map it became clear that something was not right in the CarboN camp. Cache arrived and once again Bravado Gaming did not hold back, running away with the map completely. The managed to secure a 11-4 half-time score, one which seemed near impossible for CarboN to reach. The won the pistol round on the second half, and immediately pulled ahead to 14-5, and all of a sudden it became clear that CarboN's dreams of going Paris were slowly dying out.

Except, that was not the case, and what happened next was easily one of the biggest comebacks in the history of South African CS:GO. Round by round, frag by frag, CarboN pulled the game back. Bravado eventually got to map and match point, but CarboN refused to back down as they some how managed to pull the game into Overtime. There CarboN managed to push the series into a third map, and we were off to Train!
Train
After a lengthy break due to PC issues, it became clear that CarboN had lost some of their momentum, and it was starting to get late. Train was the deciding map, and Bravado chose to start the final map on Counter-Terrorist, a smart move as it turned out. CarboN really struggled to take control of the bomb sites, always meeting the end of either BlackpoisoN or Sonic's rifle. Frustration was setting in as crucial mistakes were made upon entry, by CarboN. Bravado capitalized on the first half, making sure CarboN were punished for every mistake. The half ended 12-3 and Bravado Gaming immediately went on to win the pistol before reaching the 15th round, playing for map and match point. CarboN managed to mount a small comeback, getting two rounds on their Counter-Terrorist half, but it was unfortunately not enough as Bravado Gaming closed it out and took the series 2-1 with a final score of 16-5 on Train.
This makes Bravado Gaming the consecutive winners of the ESWC Qualifiers for two years in a row. This year, however, Bravado will aim to improve on their performance last year which saw the heavily outmatched by their international rivals. Well played to all the teams who took part at EGE this past weekend, it was a fantastic event and a pleasure to be a part of! Congratulations Bravado and best of luck!
Last Updated: August 1, 2016