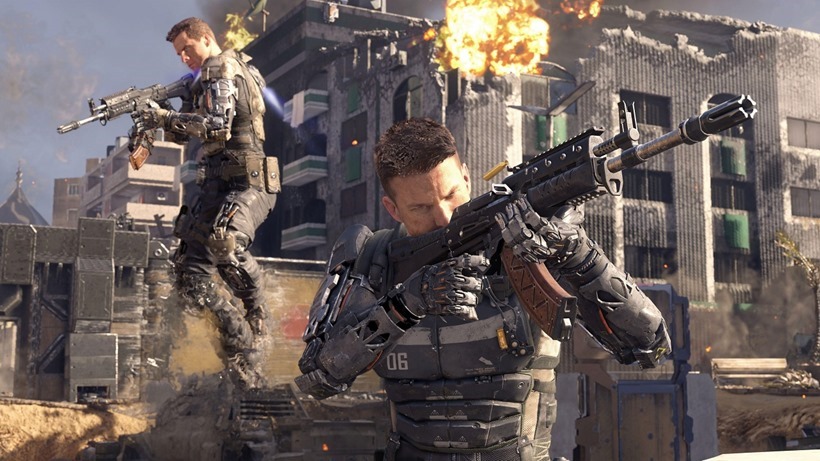 We're deep into the silly months of the year, where nearly every big publisher on the planet is fighting hard for as much time as they can in the spotlight to promote their upcoming holiday season title. No one knows this time better than Activision, who have constantly watched over the launch of a new, annual Call of Duty for a close to a decade now. So you'd expect a company with that much experience to know how to do this in the best way possible, right?
Well if Activision wanted attention, they've got it. Just not for the right reasons.
If you're a night owl on Twitter, you may have seen an account you didn't exactly recognise pop up on your Twitter feed. "Current Events Aggregate", a Twitter account made to look like so many other generalised Breaking News accounts, began tweeting about an explosion in Singapore. This very quickly turned into a racing feed describing a terrible terrorist attack in the country, except for one vital point. There was no explosion. There was no attack. And that Twitter account stirring up all the noise? It was Call of Duty's account, rebranded.
Tweets that would've regularly looked like this:
UPDATE: Singapore Authorities have officially announced a state of emergency and declared martial law.

— Call of Duty (@CallofDuty) September 29, 2015
Now looked like this: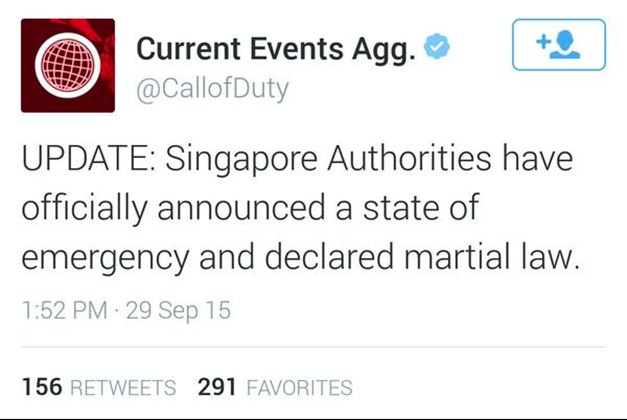 The only thing that survived the transition was the account handle, which still read "@CallofDuty". But as Game Informer shows, that information doesn't always immediately pop up. Worse still, if you were someone who has no real idea what Call of Duty is and say you're in (god forbid) Singapore while reading the tweets, it very likely instilled a terrible feeling of pure fear in you. All for Activision to market Black Ops III in the most tacky, thoughtless way I've seen in a long time.
The feed continued from there, describing how Martial Law had come into effect, quarantine zones were being set up and officials in hazmat suits were beginning to flood the streets. It's a glimpse into an event that sounded like one of the most horrific terrorist attacks in history – instead winding down into a prolonged session of fabricated fear that Activision wasn't even apologetic about.
This was a glimpse into the future fiction of #BlackOps3.

— Call of Duty (@CallofDuty) September 29, 2015
It's one of the worst marketing stunts I've seen in ages, and one that probably caused a bit of confusion and fear for those close to the fictional events. There really is no excuse for potentially causing a state of panic around a city just for a short marketing kick, but all the negative press this has generated is (sadly) working exactly into what the stunt was meant to achieve.
It's still tactless, harmful and frankly disgusting.
Last Updated: September 30, 2015