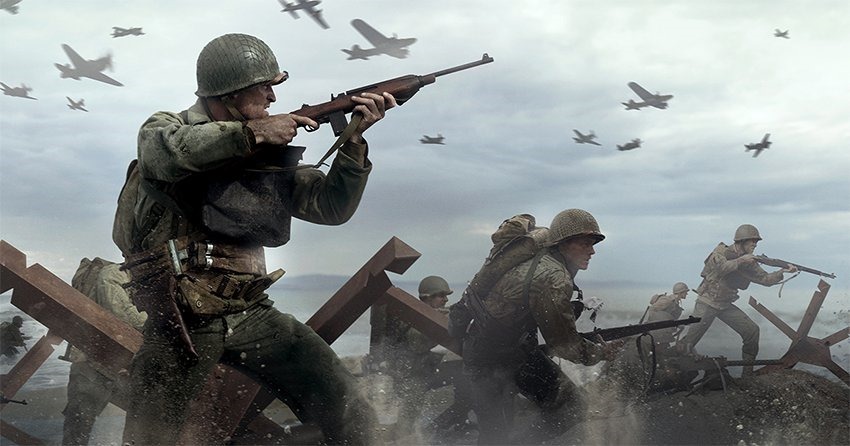 Call of Duty: WWII is out early next month, and as its name implies it's taking the series back to its World War 2 roots. While there appears to be a moratorium on the phrases "back to its roots" and "boots on the ground," that's precisely what you can expect from this year's take on the perpetually popular shooter.
With the series going back in time, it wats players to as well – back to those halcyon days, 10 years ago, when they had regular squads they played with. Back to those times before pesky things like gainful employment, spouses, babies and other irksome responsibilities.
Call of Duty: WWII wants you to get the gang back together, so here's a trio of live-action adverts showing just that. While I'm generally ambivalent about live-action trailers, I've always enjoyed Call of Duty's usually bombastic, celebrity-laden ones. These dials down on both, and if there happen to be any particularly famous people in them then I don't recognise them, probably because I'm growing increasingly old and out of touch with what the cool kids are doing these days.
Each of these trailers effective uses the same jokes, so by the time the third, French one rolls around, the joke has worn pretty thin. Pretend, instead, that we don't live in a global society and these regional trailers were only available within their specific locales.
Here's the UK one.
And the US one.
And the French one, which gives you a ripe opportunity to insert trite surrender jokes.
Call of Duty: WWII is out worldwide on November 3. I'm most keen on the single player, which takes place within the European theatre, and War mode, which adds a bunch of objectives to the multiplayer. I'd possibly even be keen to dip my toes into the multiplayer if it's fresh enough – and doesn't have Infinite Warfare's impenetrable barrier of entry.
Last Updated: October 16, 2017