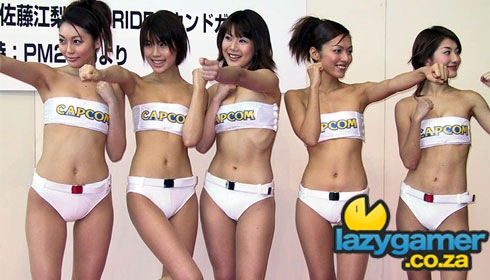 Capcom have released a ton of information on a slew of their upcoming games – even dating Super Street Fighter IV, Lost Planet 2 – and most surprisingly, Dead Rising 2. Word is Capcom bought them each flowers, took them to dinner and dancing and showed them a good time. Super Street Fighter IV is his favourite now though, because she totally let him feel up her boobs in the back seat of his Ford Fiesta.
Anyway, expect Super Street Fighter IV on or around April 27th, with Lost Planet 2 arriving on May 18. Dead rising 2 gets the indefinite release date of "This year." There's more news from Capcom – and some of it involves that "kick ass news" Epic's Cliff Beszinski was harping on about earlier.
If you were expecting an announcement about Gears of War 3, then put on your sad monkey face, because this is the least exciting "kick ass" news conceivable. It appears that the "Kick-ass news" is that Xbox 360 versions of Capcom's Lost Planet 2 will feature Gear's of War Buddies Marcus Fenix and Dom Santiago as playable multiplayer characters. Woo-F*cking-Hoo!
In other exciting Capcom news, they'll be teaming up with Microsoft Japan to bring Monster Hunter to the Xbox 360. Microsoft's latest attempt to stir up interesting in the 360 in Japan, It'll be a port of the old PS2 and PC Monster Hunter : Frontier Online. A port of game nobody plays anymore for a system nobody in Japan gives a damn about – and it'll carry a subscription fee? Yeah, this'll be the system's Japanese Saviour.
This coupled with the Gears of War/Lost Planet tie-in does highlight just how strong Microsoft and Capcom's relationship is though.
Last Updated: January 26, 2010