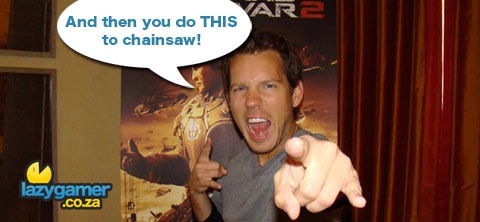 Are you ready for some great news? Well, Epic Games' Cliff Bleszinski thinks that you should be.
Why is that exactly? Well, because yesterday evening he announced what will probably be an announcement of an announcement. Yes, you read that right. Making the use of his Twitter account, the artist formerly known as Cliffy B had the following to say to his followers:
"Kick ass news soon. VERY soon. Watch this space…"
It seems like we have an upcoming announcement from Epic and it sounds like it might be a biggie. So what could it be? Is it that obvious?
I don't know so much.
[Update] Looks like
this
may be the incredibly underwhelming "Kick ass" news.  Gears of War characters to appear in Lost Planet 2.
Aren't we all thrilled?
The first thing on everyone's minds is that it's about time that Epic announce a new Gears of War. To be honest, this is most probably the case.
What else could Epic be hinting at? It could be another Unreal game, maybe some sort of reinvigorated single player game? What about a sequel to the immensely popular Shadow Complex that graced Xbox Live Arcade last year?
Well, Cliff seems to be the one who is going to make the announcement, so my guess goes back to the obvious Gears of War 3. Thing is… with Microsoft pushing hard to ensure that Halo Reach becomes the biggest title of 2010 then I cannot see them trying to get a huge release like Gears of War 3 out in the same space.
We can only then assume that the chances of seeing a Gears of War 3 in late 2010 are slim, which also makes sense considering the almost standard two year development cycle for videogames.
This then brings me to the fact that if it is indeed a Gears of War 3 announcement, it seems strangely early, and again, Microsoft don't want too much getting in the way of Halo Reach's spotlight.
Could it be an announcement regarding a Natal game? You never know and you could think that Microsoft will be pushing everyone to develop for the new technology. What I do know is that it most probably won't be Gears of War and Natal at the same time, as Epic has already stated clearly that they don't think that the two are meant to mix.
What do you guys think? Will it be the obvious Gears of War 3 announcement, or do you think it might be something else? What about the first Gears of War spin-off?
Let us know in the comments.
Last Updated: January 26, 2010