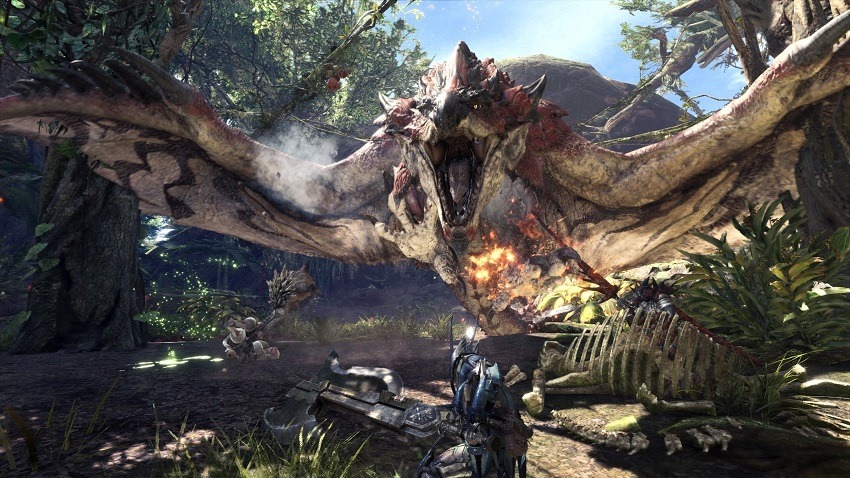 If you're a Monster Hunter fan, the year is definitely starting off right. Monster Hunter World is looking pretty darn great, and is just a few days away from landing on Xbox One and PS4 around the world. If you're waiting for the PC version though, that wait is agonisingly longer. Capcom recently announced that the port will only be coming closer to the end of the year, and they're blaming the complexities of PC hardware and online matchmaking for it.
In an interview with GamesRadar (via Game Informer), Monster Hunter World producer Ryoza Tsujimoto gave a reasonable explanation as to why the PC version will trail the console release by nearly eight months. As expected a PC port is far more work with so many more unknowns, so the team wanted to focus on that solely with the console launch out of the way.
"For the main Monster Hunter game, this is our first PC title and it's something we want to make sure we get right. So rather than have it taking up resources during the console development and not it not being able to have our full attention on it. We want to get console out the door and then we're going to take some extra time and try and get the PC version as good as possible."
There's also an issue with matchmaking, which needs to be developed outside of the comforts that Xbox Live and PSN provide. This means building a separate network for the game on PC, which obviously takes more time too.
"There's extra work you need for PC as well. On console you use first party matchmaking, you just kind of plug into it, whether it's PSN or Xbox Live, but on PC we're going to have to work more to get our own matchmaking working. So, hopefully, PC users won't mind waiting a little bit longer for us to bring you a really great optimized PC experience."
They're reasons that probably won't shock or surprise you, even if it's slightly disappointing that Capcom couldn't manage it alongside console development. But if the PC port is going to take the better half of this year to complete, Capcom better hope that it's stable at launch. Because I doubt there will be patience going around if it isn't.
Last Updated: January 11, 2018