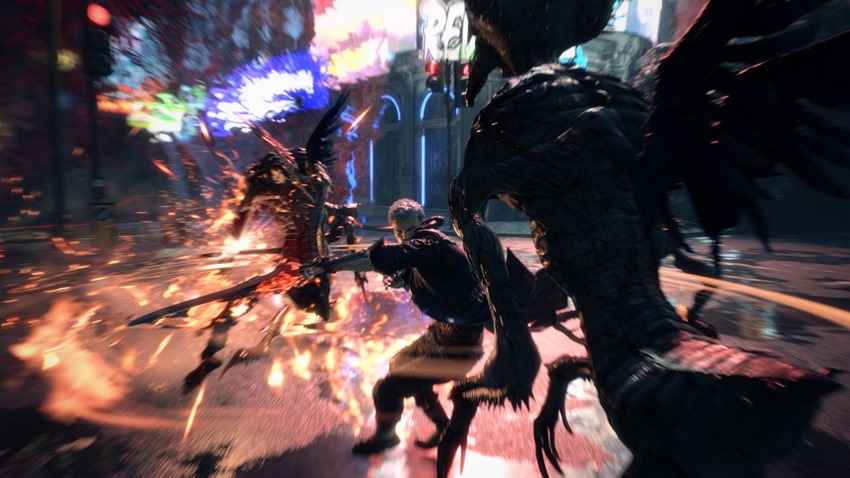 I just got an email today from a studio that is offering free vodka at their booth, and that's only the second-biggest reason why I'm sad that I'm not at Gamescom this year. The primary reason for my very audible lamentations? The fact that I'm not present to play some Devil May Cry 5, which has a very solid and robust demo available to anyone visiting the German showcase of interactive entertainment.
So far, Devil May Cry 5 looks…perfect. It's everything that I want from a proper sequel to the best damn action franchise ever made: High levels of adrenaline-pumping action, enough cheese to have a fondue party and a devil may care attitude when facing demonic beasts that happen to be the size of OG Xbox One consoles.
Some small website by the name of IGN or Eeegin got their hands on 15 minutes of footage from that demo, which you can see below. I do hope that this demo showcase helps the up and coming gaming website grow:
Oh my yeeeessssss. What I'm really digging here, is how Nero uses those new devil arms of his. With his trusty demonic right hand ripped off by a villain that I'm now dubbing Wanker's Cramp, Nero has to make use of cutting-edge technology to have an advantage over demons. The son of Vergil still has his natural strength, speed and agility to call on, but I'm keen to see if he can still pull off a devil trigger without that arm of his.
Still, even if he can't access his Sparda bloodline abilities fully, Nero can still unleash a torrent of energy from his new cybernetic limbs. The fact that this new feature is a consumable that has to be used wisely, makes for some tasty new strategy that players will have to employ when they go hands-on with Devil May Cry 5 next year.
A game which now has a release date! March 8 for PC, PS4 and Xbox One. If the video above still isn't enough, then here's a gallery of new Gamescom screenshots for you to feast on.
Last Updated: August 22, 2018