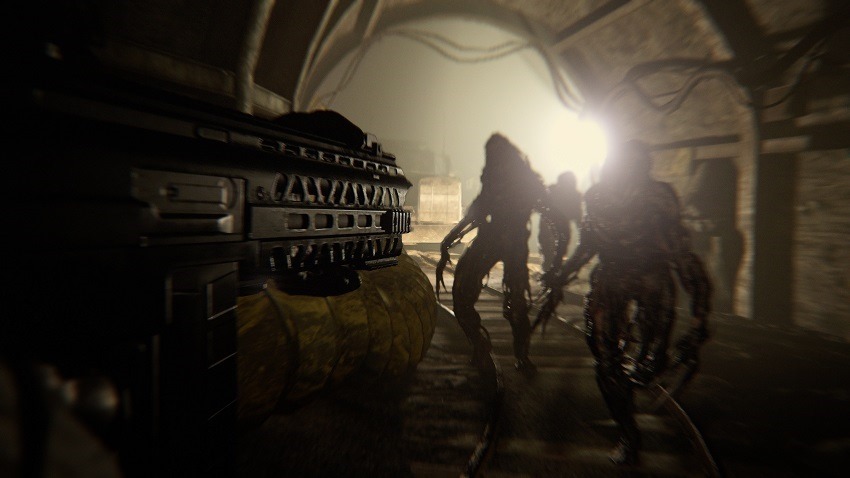 Chris Redfield really needs to start carrying around more ammunition with him. He's a seasoned military agent, and should know that creeping into abandoned underground caverns filled with all manners of monsters is likely going to be a bullet heavy affair. Alas, the Resident Evil hero just doesn't learn, which makes his chances of survival in the first glimpse of Not a Hero gameplay pretty slim.
The DLC takes place after the events of Resident Evil 7, but plunges you back into the weird and terrifying setting of the South. This time the STARS operative is trapped in a mine, while of a bunch of his other men seem to have been captured by whatever creeps below. It's not clear who is orchestrating events this time, but there's a whole lot of Moulded still waiting down there for Redfield to come and play. And an especially large one at the end of the footage. Take a look below.
This more action-focused DLC looks pretty great so far, but I do hope Capcom have tidied up some of the combat to suit it. Resident Evil 7's shooting wasn't the greatest (it actually felt better in VR), but side-stepped that but not requiring it so often. If Redfield is going to be shooting 90% of the time, that needs to have changed. But I guess with it being a free piece of content that you can pick up before the end of the year, we might be asking a bit too much.
Either way this, and End of Zoe, will be neat caps on the Resident Evil 7 story, which exceeded most critical expectations to many people's surprise. It's a great game, and you should certainly look at giving it a go.
Last Updated: September 22, 2017