The most successful eSports event at rAge was by far the Call of Duty: Black Ops 3 Monster and ASTRO Gaming Cup (MAG Cup). The event was not only endorsed by the Call of Duty World League, but also brought some much-needed attention to the South African Call of Duty scene with the aid of Ben "Benson" Bowe who co-commentated with Nick Holden. Every time I made my rounds I was taken aback by the shear number of expo-goers who sat around watching South Africa's top teams compete for over R150 000. The production was flawless, the team seemed to have endless energy, and the schedule flowed near perfectly throughout the games.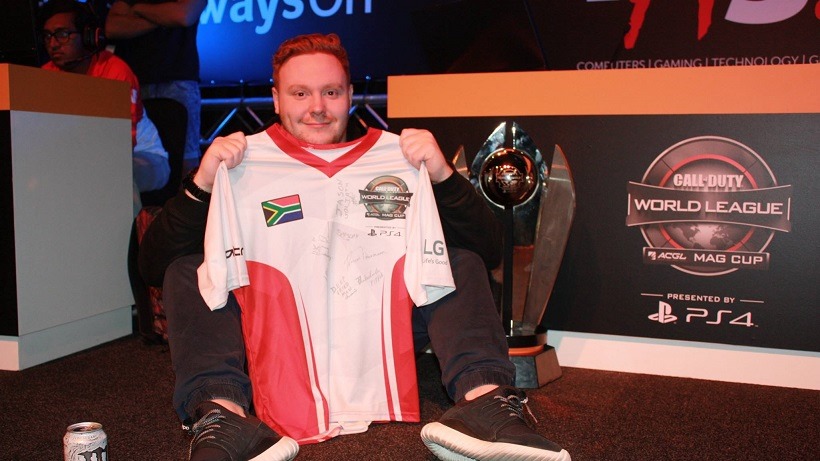 Ben "Benson" Bowe with a signed shirt from players and staff
Accolades aside, the MAG Cup also made international news with the BBC picking up on a crucial moment between RoyaL eSports and P41n Gaming where famed shoutcaster Ben "Benson" Bowe completely lost his mind. [WARNING: If you're wearing headphones, turn them down].
#MAGCUPZA
Day 1 play of the day.@P41N_G4M1NG v @RoyaL_eSportsZA
Casters: @Benson_EU & @HoldenZA
Stream: https://t.co/xWqcTvjXIK#CODZA pic.twitter.com/x8mx7uunby

— ACGL (@AfricanGaming) October 8, 2016
To briefly explain this moment of ecstasy, RoyaL eSports were seconds away from taking the match (four seconds to be exact) while P41n Gaming's players searched for the final member of RoyaL. In the final seconds, we get the perspective of the search party who find the final player and kill him in the nick of time. P41n Gaming had done it, and with no time to spare, a seriously exciting moment best captured in the video above.
Energy eSports, winners of the Call of Duty MAG Cup
P41n Gaming, unfortunately, met their end later on in the tournament, but this moment will always remain one of the most exciting moments in history, perhaps comparable in my experience to the Dota 2 DGC 2013 grand final between Bravado Gaming and Energy eSports where I too screamed my heart out.
The ACGL are now fast-tracked to contend on a global level as their tournament at rAge was just a glimpse of things to come. I must congratulate Nick Holden, Clint "Zombiegamer" O'Shea, and the whole ACGL team on a fantastic tournament and I look forward to what they have in store for 2017.
Like esports?
Check out esports central
Last Updated: October 13, 2016