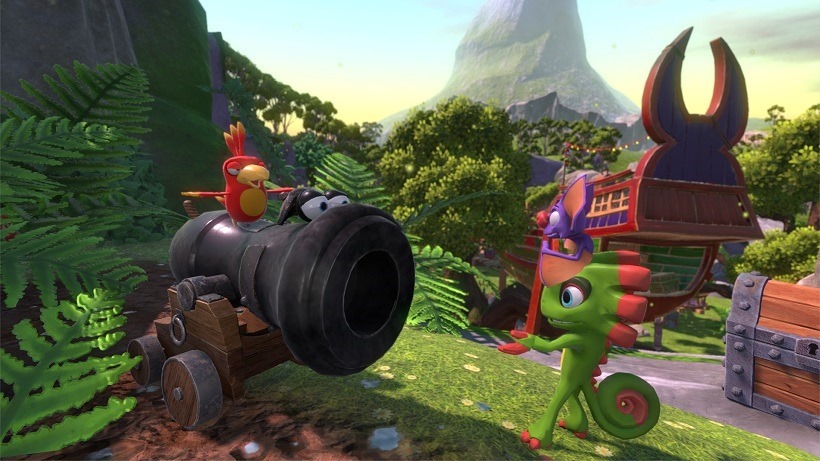 Platformers aren't nearly as prominent as they were a decade or more ago, which makes their recent resurgence something to get excited about. The imminent release of games like Crash Bandicoot, a new Super Mario and (maybe) Beyond Good and Evil 2 show that platforming in a 3D space isn't dead yet. And if there ever was a poster child for that sentiment, it's Yooka Laylee – a massive Kickstarter success that finally has a release date attached to it.
Developers Playtonic Games (comprised mainly of former Rare developers) have formally revealed that their colourful platformer is out on most platforms next April the 11th. The announcement came alongside a new trailer, which was the first not to feature the iconic Wii U logo at the end. This was supplemented by a Kickstarter update which confirmed development on the particular port had been canned, as Playtonic eye out Nintendo's Switch as a replacement.
There are two reasons for the cancellation. The first, and specifically pointed out by Playtonic, are technical issues. Yooka Laylee is being developed with Unity, and despite multiple games releasing on the Wii U with the same engine it never really played nice with the system. Playtonic seemed to be running into a brick wall over and over again too, and eventually decided to just scrap it entirely.
That wouldn't make sense if the audience for that port was large, but it plays into the second reason beyond it. Nintendo's Switch is around the corner, so it makes perfect sense for a game aiming to launch just a few weeks after the console to aim for it instead. Playtonic haven't confirmed that the port will release on the same day and date, but it seems likely all of their resources will now be geared towards making that happen.
And quite frankly, that would be my platform of choice for a game like this. If you're still not sure what Yooka Laylee is all about, the trailer above does a good job of setting its plucky tone and showcasing its vibrant art style. Simply put, I can't wait for it.
Last Updated: December 14, 2016