There should be nothing limiting a player from enjoying their favourite game, no matter their disability. We've seen this with Michael "handi" Olson, the CS:GO player who has no hands but still competes and plays CS:GO, and others who share similar disabilities but never back down from a challenge. Most of these gamers use their passion to escape and enter a world where your real life issues are as limiting as you want them to be. The only issue these players face is the community they play in, which North American CS:GO player and streamer , Adam "Lo0p" Bahriz, found out the other evening.
It all started with a Reddit post about a bunch of players on ESEA removing Lo0p from the game. Lo0p has Hereditary sensory and autonomic neuropathy (HSAN) and as a common courtesy he often lets people know that he's disabled, which is not required, but he feels it's necessary. The players then voted to remove him, but they gave their reason's on the ESEA forum. Two players from the game commented on the ESEA forum thread:
"We thought he was a troll… what would you think if someone came in with a bind text like that, people troll like that all the time. Instead he should tell the people to check out his twitch. after I checked his twitch I realized he was for real. I apologize but it was an honest misunderstanding. lots of people troll in esea."
That's a fair point as it's the nature of most online players to be defensive and expect trolling, they did what they thought was necessary, but it didn't deter Lo0p from trying. Once the thread went live on Reddit, everything changed for Lo0p.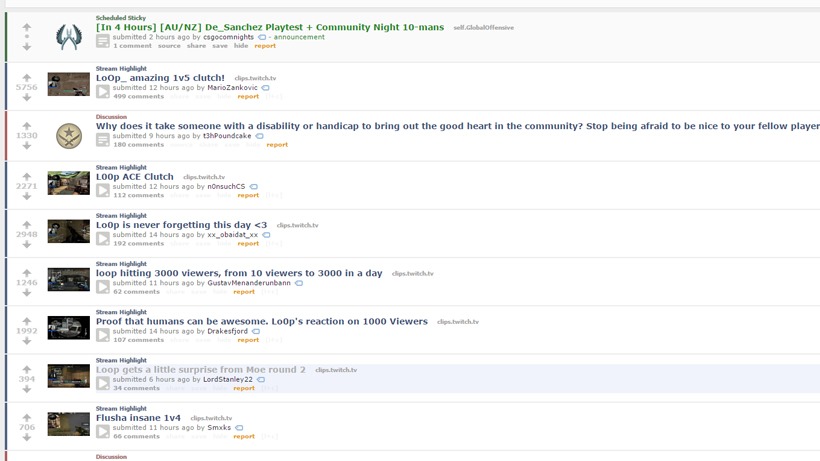 The CS:GO Reddit front page showing insurmountable support for Lo0p
What happened next was a complete CS:GO Reddit takeover, and Lo0p was almost every single front page post. He went from having 10 viewers to peaking at 3,000 and it didn't stop there. A number of professional players tuned in and joined the rest of the community as they marvelled at this little guy sitting with his nose almost flush against the screen destroying his opponents. Even Twitch got involved with their own promotion.
#TwitchClip of the Day:

Partially blind/deaf CS:GO streamer @FDN_Loop ends the round with a CLUTCH 1v5.

LIVE: https://t.co/phZA7vqxWY pic.twitter.com/lnqklZKKP8

— Twitch (@Twitch) April 17, 2017
People were donating, following, and he maintained composure for the most part – but when he noticed his viewers and donations he could not contain himself anymore.
What this proves, despite popular belief, is that there are some really good people in gaming communities. Yes, we sit by with trolls and people being an absolute menace in games, but at times we can pull together and really make a difference for somebody. Lo0p's life will probably never be the same again, and I'm sure he will never feel like a "charity case" because his decision to not let his disability hold him back is shown in full by his skill in CS:GO. His stream is entertaining, and he's quite a funny guy. I really hope his dreams as a streamer come true and that community continue to support him, not only because of his disability, but because he's a good, entertaining player.
Like esports?
Check out esports central
Last Updated: April 18, 2017