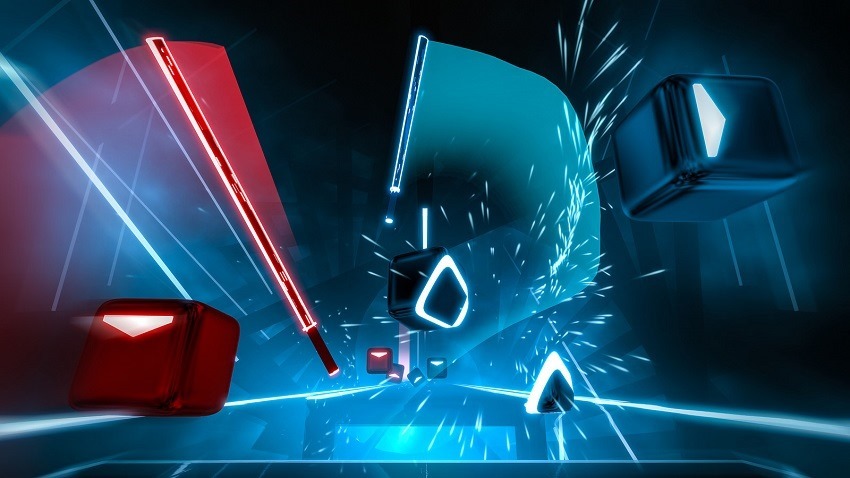 Beat Saber is one of those VR games that suddenly has everyone wondering if they should take the plunge. Which is surprising, given how simple its premise is. Like a Guitar Hero or Audiosurf that has been designed with VR in mind, Beat Saber has you slashing blocks to the beat of a song as they race towards you in a 3D space. You use two colour-coded sabers (listen they're just lightsabers without the copyright) to cut the blocks in specific directions, with more difficult tracks really getting creative with the complexity. It's been a smash hit on Oculus Rift and Vive, and it's finally out for PSVR this month.
Beat Saber was announced for PSVR earlier this year, and I have to say I'm surprised we're getting it before the end of it. And especially this month, which already has the fantastic VR-enabled Tetris Effect on its way today. The PlayStation Blog made a note of detailing some specific PSVR features that seem to be exclusive to this version of the game, which include some new practice modes, five additional songs and more saber customization.
Challenging campaign: Improve your game style every day by completing levels in our complex campaign, exclusively created for PS VR players.
Exclusive new songs: Everyone loves Beat Saber's Original Game Soundtrack. That's why we bring you, above our well-know music hits, five new exclusive songs coming straight from excellent electronic dance music artists and talents from around the world.
Tons of modifiers: The game contains many modifiers to make your gameplay even more challenging and exciting every day.
Epic sabers: Get ready for those shiny beasts because they look just amazing. Watch them glow and slash the cubes with style!
Practice mode: We know practice makes perfect. In Beat Saber, you can start from any part of the level or even slow the game to practice problematic parts.
The additional songs is a particularly interesting point. PSVR will probably not allow the upload of user-created tracks, which quite honestly have been the main source of the fun on other VR headsets. The songs that Beat Saber ships with are good, but there's not that many of them. An additional five at launch is a start, and there's the promise of an expansion pack with ten more soon. But Sony will need to find a creative way around Beat Saber's best community feature if they choose not to support it at all.
It's also going to be interesting to see how well the PlayStation Camera holds up with all the movement, especially when Beat Saber requires some deft precision with its strikes. If it works as intended, this could be the next big thing for Sony's strong VR showing in 2018.
Last Updated: November 9, 2018