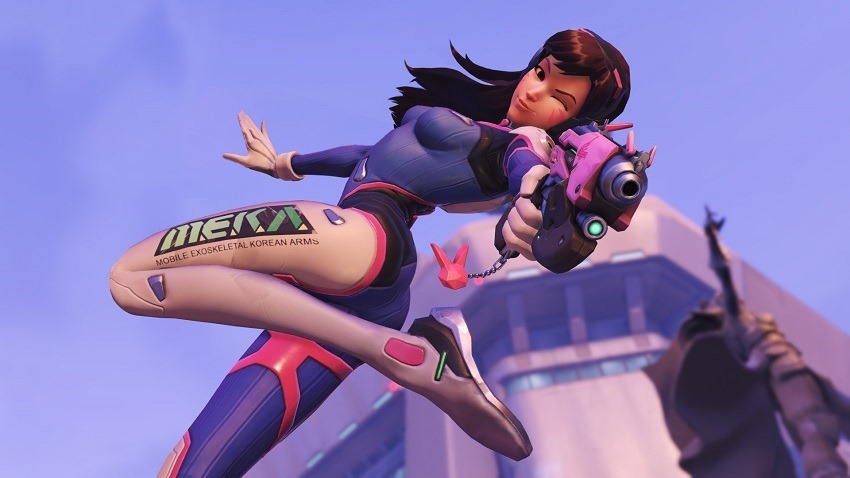 Blizzard's long and great track record for putting out stunning CGI short films for its bursting cast of Overwatch characters continues today with an intimate look at the beginnings of everyone's favourite pro gamer, D.Va. D.Va is a lot more than just a punk piloting a pink mech suit – she's the saviour of Busan, South Korea, protecting the city from an ominous omnic threat that strikes with robotic squidies (anyone else get Matrix vibes?) at a moments notice. With her back against the wall and forced to go at it alone, D.Va struggles to reconcile self-preservation with duty, and it almost goes entirely wrong.
In a way, this short shows just how the character got the idea to turn her hulking mech suit into a portable bomb of sorts, using it in the climatic ending to dispatch the last enemy in a stunning explosion of green and gold. D.Va is often hailed as a celebrity, and that status is kept up by the press surrounding the short. But it's interesting to see how the character herself brushes it all off, instead focusing on the mission at hand and never seemingly taking a break from work fueled by junk food and jingle playing sodas.
There's so much footage to comb over, considering Blizzard is pretty good at hiding information in plain sight with each of these shorts. But as an introduction to D.Va, it's great. You witness the hero struggling with the post-traumatic stress of her last mission, but grasping onto her duty at hand. It's clear why she became a member of Overwatch, given her complete heroism and dedication on show. But there are scars beneath the cute exterior, and ones I wish Blizzard would be able to explore more.
Along with the short Blizzard have also released a look at a brand new map which should be going live in Overwatch soon.
Last Updated: August 22, 2018