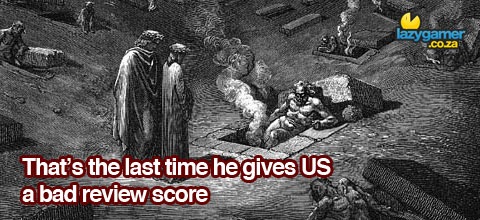 Thanks to all of EA's marketing stunts that include crazy sin-based promo items involving cheques for lots of money and expensive superbowl advertising fiascos, you have most probably already heard of Dante's Inferno.
The biggest thing that I have heard about the game through and through is that the game is a blatant, unashamed rip-off of God of War, in every way.
Well reviews are starting to pop up from all over and it's not looking too good for poor ol' Dante.
A quick look at Metacritic already has the game listed as having an average score of 75/100 for Xbox 360 and 78/100 for Playstation 3, which isn't exactly going to make Kratos shake in his boots.
IGN UK have summarized the whole thing up pretty well, saying:
Ultimately, our issue is simple – if you're going to shamelessly riff on a formula popularised and pretty much perfected by another massive game title – yes, God of War in this instance – you better be damn sure you do it better. And, sadly, aside from its excellent combat system, Dante's Inferno misses the mark in almost every way.
In my opinion, if you are looking for something that offers something of a God of War experience while you wait for the real thing, go for Darksiders instead (my review here).
Last Updated: February 4, 2010