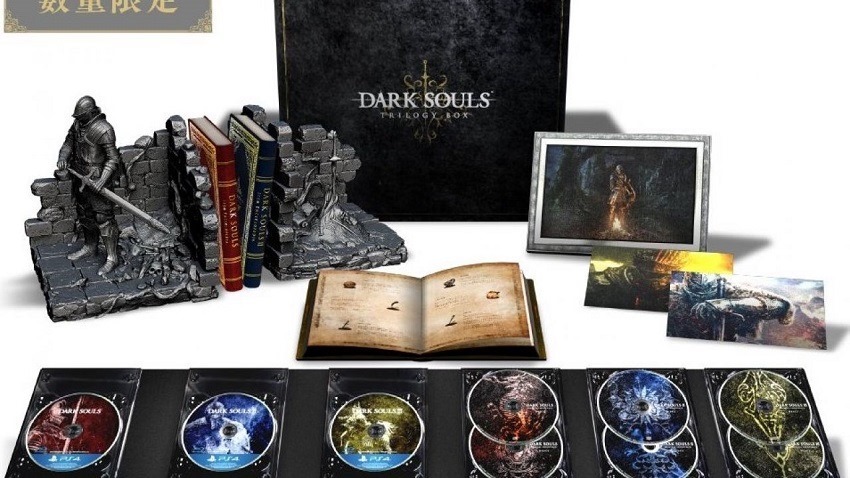 Darks Souls had a big day yesterday. Not only was the long rumoured remaster officially announced, it's also coming to Nintendo Switch when it launches this May. The first in the series of multi-platform Souls games still stands as a hallmark of From Software's stellar design – something the studio only perfected heading up to Dark Souls 3. It's a trilogy that is industry defining, and Japan is getting a suitably stunning box set to celebrate just that.
The nearly $450 collection is extensive. It includes the three games and is exclusive to PS4, but ships with a bunch of delectable extras suitable for any hardcore Dark Souls fan. There's the soundtracks for each of the games, a bookend set for you to store everything, 10 art prints with frames and three large physical dictionaries with item descriptions for everything across the series. That's some collection going on there.
It's expensive sure, but it's also going to be prohibitively difficult to get outside of Japan. Bandai Namco have confirmed that there are no plans to bring this collection to the West, meaning that imports are your only option locally. And given both how much it already costs and how limited the entire set will be, you're probably going to have to act fast.
For everyone else, the Dark Souls Remaster is being done up in the same engine as the third game, and will be launching on Xbox One, PS4, PC and Nintendo Switch near the end of March. Rumours also suggest that both Dark Souls 2 and 3 will head to Switch sometime after that, so it's a good time to praise the sun.
Last Updated: January 12, 2018