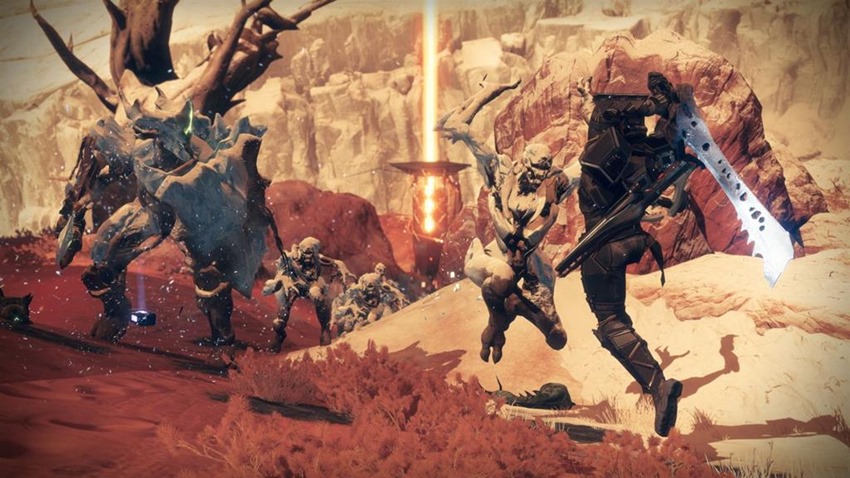 I am in such an abusive relationship with Destiny 2. Bungie's latest slice of Destiny 2 story content in the form of Warmind may be about as lengthy as a midget in a 100m hurdles race, but beneath the surface there's some surprising meat on the bone. Enough meat to come back daily? Nah, not really. But certainly enough of a bite to at least have some weekend fun with it.
With September still a ways away from the kick-off for Destiny 2's second year of content, Bungie is looking to stretch that gap out as the studio detailed their new summer roadmap for the months ahead. In two weeks time, those changes will soon be seen with what Bungie is calling an improved version of the Faction Rally event that Future War Cult never wins, some fine-tuning for Exotic armour pieces and Crucible Labs. "I can already hear you asking "What is Crucible Labs?" and I'm glad you want to know more," design lead Derek Carroll wrote on the Bungie website.
Update 1.2.1 will include a new feature intended to give you a peek behind the scenes and a louder voice in our creative process. Crucible Labs will give every player of Destiny 2 access to experimental PvP content. We'll then have a chance to solicit your feedback to guide our final iterations. You'll learn more about Labs before launch. For today, with it making an appearance on the Roadmap, I wanted to give you a preview of our goals. More to come on this soon.
As for other events in the near future? Destiny 2 has a new celebration that sounds like a new-gen version of Destiny 1's Age of Triumph in the pipeline, that it calls the Solstice of Heroes. "This summer won't just be spent playing the waiting game," Game Director Christopher Barrett wrote.
We'll be delivering the Prestige modes you've been waiting for, bringing back Bounties, providing quality of life fixes, and more. In addition, we're launching a new seasonal event called 'Solstice of Heroes' where Guardians will celebrate their accomplishments and, of course, earn sweet new rewards.
I'm an eternal optimist, and I've got some faith in Destiny 2 finding its groove again. Fundamentally, the game is better than ever and closer to the constant moments of glory that the original Destiny introduced during its three-year run. Does it sting knowing that Destiny 2's first year has felt more like a beta when I think long and hard about it? Absolutely. If Destiny 2 can still introduce an expansion that does for the game what The Taken King did for the original, well then all is forgiven.
C'mere Destiny 2, I just can't stay mad at you, you rapscallion.
Last Updated: May 17, 2018