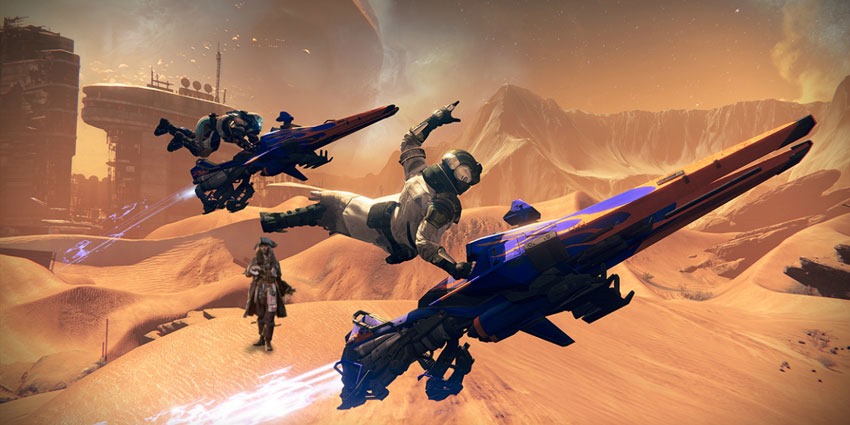 I've always thought that walking is for chumps…and chumpettes. I know it's a miracle of biology that I can move one of my legs forward to propel my body in the direction that I'm intending to go in, but it's so damn slow. Motorcycles though, are awesome. Motorcycles that defy gravity and don't require a stop at the petrol station and can be teleported into my personal space? They're even more awesome.
Which is why Sparrows rule in Destiny 2. If you can grab that one is.
If your Guardian has gross blisters on their feet and you're trying to avoid being that guy who is obsessed with popping them, then fret not! Sparrows are indeed in the sequel. How do you get one? By trusting in our lord and saviour, RNGesus. See, you're not guaranteed a Sparrow until you've done decent footwork across the EDZ, Nessus and Io as you assemble the Vanguard band back together.  Eventually earn a Bright Engram.
Head back to the Farm, hand it in to Tess Everess whose greed for Silver in-game currency could not even be stopped by the march of the Red Legion and if you're lucky…you'll get your Sparrow. This is a very different setup to how players initially got their Sparrow in Destiny 1, with that vehicle being awarded during the fourth mission.
Bright Engrams are handed out by Tess regularly, so there's no need to spend real money on game money to buy digital goods and I can't believe that that is actually a legit sentence. Anyway, once you have your Sparrow you can equip it and be on your merry way, speeding past all those losers who don't have one as they shake their fists in anger at you. Shake harder dammit.
Until you have your own Sparrow, you're going to have to hoof it.
Last Updated: September 6, 2017