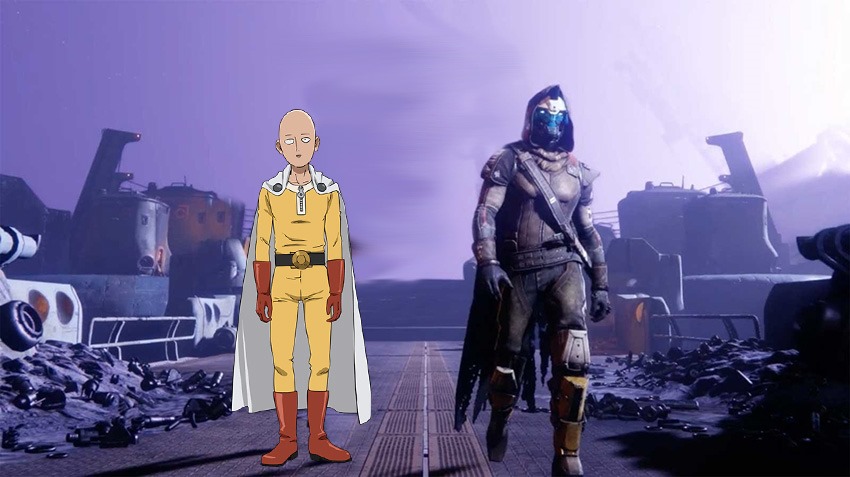 Within Destiny 2' universe of ancient shadow gods, time-travelling androids shaping reality into a perfect simulation and a militarised planet launching a new crusade, is the realisation that you're always going to need a bigger gun to solve those problems coming right at your face. The cause of and the solution to all of the problems within Destiny 2, guns are the currency that keeps that game alive as players pursue dangerous foes for a chance to lay their hands on more exotic problem-solving tools.
With the Solstice of Heroes currently underway, veteran players have a full toolbox of such arms by now. Weapons which were thankfully upgraded along with numerous other pieces of gear not too long ago, that can now break the Destiny 2 sandbox if used in a certain way. As Solstice of Heroes ramps up, players are using the various buffs available within that celebration to melt their way through the opposition in a manner that turns them into the living embodiment of One-Punch Man.
Or Some-Punches Man but you get the idea. Gladd, one of Destiny 2's best PVE players figured out a way to ramp up damage to an absurd degree within the game and the Solstice event, combining elemental buffs and inherent weapon traits to create a Guardian who can slap actual space gods into oblivion:
Here's how it works for Gladd: Using an Arc-heavy Hunter Build, Gladd equipped the Liar's Handshake gauntlets which allows for a Guardian to deliver increased melee damage and then he added a triple stack of Combination Blow from the Arcstrider class to the recipe. From there, he amped up the damage considerably with the Striking Hand armour mod and equipped a shotgun with the One-Two Punch perk.
Finally, Gladd took on these challenges during the Arc day of Solstice of Heroes, which gives players a ludicrous advantage if they deal electric element damage straight into the faces of enemies. The end result was a Hunter who could literally punch Raid bosses into oblivion with jabs that could deal a maximum of a hair under a million points of damage.
With a damage output of that scale, current Raid bosses could be defeated in no time at all as the plucky player demonstrated. It's amazing stuff, and I absolutely adore experimentation within a game that allows a player to have some fun with ideas that not even its developers could have foreseen. The idea is neat, and while it'll probably be patched out by the time next year's Solstice event begins, it's a great way to remember the second year of Destiny: Broken in the best way possible, exciting to pull off and electrifying in execution.
Last Updated: August 6, 2019