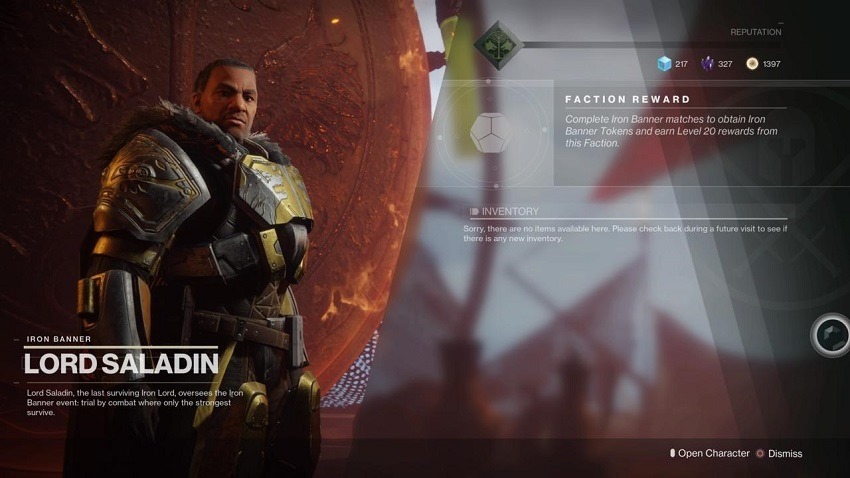 Destiny 2's Iron Banner is now live, giving you another reason to dive into PvP, reach down with your many weapons and pull up glory from the online arenas around the galaxy. It's perhaps not as enticing as it was in the original Destiny (it's only one match type with no alterations), but the pursuit of the Samurai inspired gear is enough to keep me in the playlist for the entire week. If you're joining me, be on the look out for something specifically Overwatch flavoured in the mode though. Especially if you're a fan of good old shotgun skull guy, Reaper.
Keith Ferguson is a name you might not be immediately familiar with. He's the voice of Saladin Forge, the narrator of the action during any Iron Banner match, but also Reaper in Activision's own Overwatch. Given that both Blizzard's shooter and Bungie's shared-world one live under the same publisher umbrella, the latter saw a chance to use Ferguson for a little fun. If you know Reaper, you'll know his signature "Die. Die. Die" chant when he casts his ultimate in-game.
Saladin Forge has been playing a little too much then, as you can see when you manage to achieve "We ran out of medal" in Iron Banner. That's 20 kills without dying, in case you want to trigger the below yourself.
You don't get anything special other than a good chuckle if you immediately pick up where the reference is from, which might even be enough to put you in danger of losing your ridiculous kill streak. This isn't the first time Overwatch has spilled into Destiny 2 (some weapons very clearly borrow their names from Overwatch lore), but Activision is clever to allow their two biggest titles to cross-pollinate just a little bit.
Last Updated: October 11, 2017