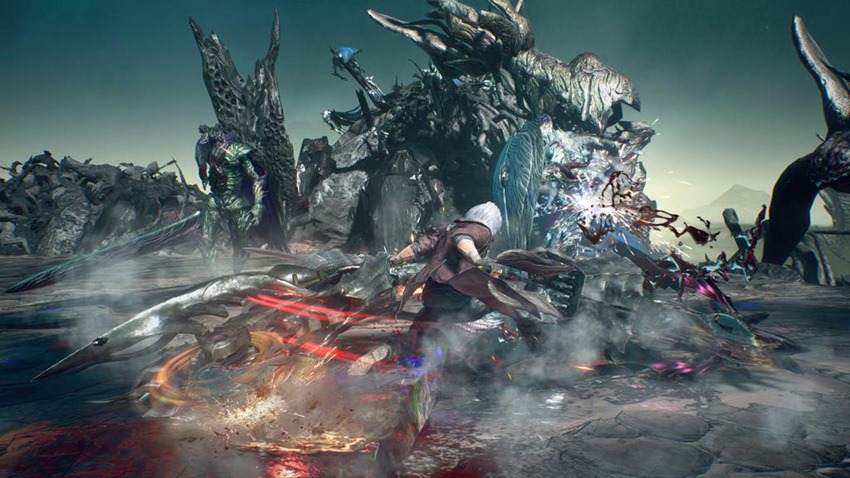 Ya know what? My devil trigger has been pulled enough yet. I'm still high on Devil May Cry 5's action, and much like the majority of YouTube that wants me drawn and quartered for daring to miss an attack window in the King Cerberus boss fight, I want to polish those skills. Hone them to a fine edge. In many ways, Devil May Cry's Bloody Palace is the OG battle royale simulator.
One hundred floors of action, one devil slayer and a chicken dinner waiting at the top. A key part of the demon-slaying experience since Devil May Cry 3, Bloody Palace starts out with some simple goons mobbing you, and drastically increases its tempo the further you go up its various floors, throwing all manner of tougher foes, combinations and bosses at your pretty face.
This better not be an April Fools joke, but Capcom says that the mode will be ready to rock and roll on April 1. To celebrate, here's a whole mess of new screenshots showing off some of the challenges that lie ahead:
You'll be able to tackle each floor as one of Devil May Cry 5's main characters: Stylish to a fault Dante, the hot-headed rebel Nero or the newcomer V who stays on the perimeter and sends his shadowy familiars in to fight for him due to the fact that he happens to be more frail than damp toilet paper. There's also hope that a certain someone else will make the cut, thanks to some recent data-mining making the rounds.
Ya know, that guy. I'm not doing any spoilers here, as I'm pretty certain that we're still at least a month away from the Internet legal waiting period for video game surprises to still be revealed. Devil May Cry 5 is out right now, and it's the only video game in existence that allows you to do a power-up while telling a boss character to go do something that starts with an F and ends in "uck". No, It's not "firetruck".
Last Updated: March 15, 2019