You may have heard a lot about this past weekend's DGC, or Digital Gaming League Championships, but I am here to tell you what really went down. First of all, before we get into the heavy stuff, let's take a moment to congratulate the winning teams on their hard work.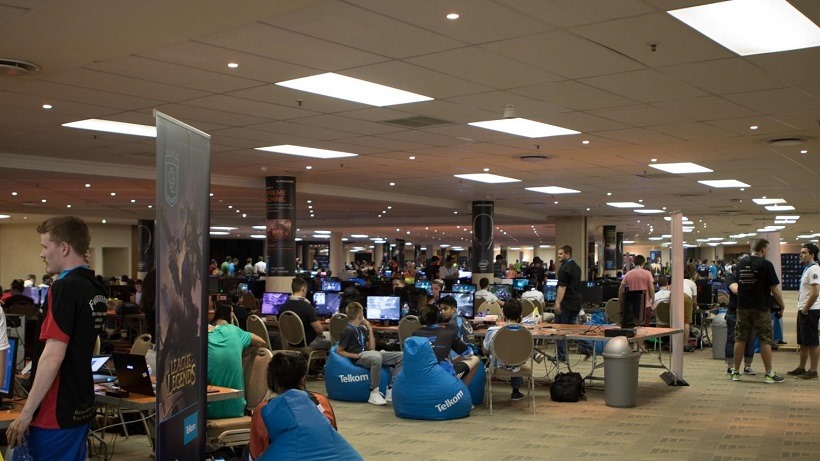 The annual DGC kicked off on Friday afternoon with the first round of group matches. This is where all those teams who played eight months in the league for no rewards, made their way to Johannesburg at their own expenses and were sent packing after day one. Nonetheless the tournament went on with its fair share of hiccups and upsets.
Competitive Results
Teams attend DGC with the simple goal of proving they're the best. Each year players sit less than a few meters from each other screaming at each other. Naturally, each tournament needs a winner so on behalf of Lazygamer, congratulations to the winning teams and of course to those who did not make the cut, but sat around through endless problems and still managed to get a game or two.
Call of Duty: Advanced Warfare Xbox One.
1st Place: Al Carbon Astra
2nd Place: Ventus Gaming
3rd Place: Insane Gaming
Call of Duty: Advanced Warfare PC
1st Place: Altitude Kinguin
2nd Place: Energy eSports
3rd Place: Altitude Call of Duty
Battlefield 4
1st Place: Aperture Gaming Blitzkrieg
2nd Place: pULse.Evolve
3rd Place: xTc.Legion
Counter-Strike: Global Offensive
1st Place: Bravado Gaming
2nd Place: Energy eSports
3rd Place: Altitude Gaming
Dota 2
1st Place: Bravado Gaming
2nd Place: White Rabbit Gaming
3rd Place: Carbon eSports
League of Legends
1st Place: Energy eSports
2nd Place: Ventus Gaming
3rd Place: New World Order
Hearthstone
1st Place: Dale "Pand3m0nia" Pon
2nd Place: Greg "GrazE" Bloch
3rd Place: Jaco "MajorPAIN" Mostert
As mentioned above, the tournaments at DGC didn't happen without their fair share of hiccups, and personally this was one of the most disappointing  Championships I've ever attended. Now that we've got the right out of the way, It's time to dive deep into what went wrong at the DGC.
DDoS attacks and network issues
When you bring together thousands of gamers you're bound to have a network issue or ten. In the past the Telkom team have handled them with ease, but this year a new foe reared its ugly face – the DDoS attack. On Friday evening Both the Dome and the DGC were hit by a wave of DDoS attacks bringing the whole competition to its knees for an hour or so. The worst part is the attacks seemed to originate from within the Dome or DGC area, coupled with simultaneous external attacks. This heavily affected the tournament, and some teams got the short end of the stick and faced elimination due to the issues created on the network. These issues continued over till Saturday, but by that time teams had already been affected and some were even knocked out.
I must applaud the DGC network staff who quickly moved to alternatives to make sure the tournament ran continued, but it did not run all that smoothly. Players could feel that the network was not correct, and you could see it in competitive matches where at times the games' servers would either drop completely or lag uncontrollably. It shut down the broadcasting during some of the most important games because they had to take such preventive measures to ensure no more attacks would stop play.
Tournament Structure
This was a big one. The DGC used a groups-into-double-elimination format for this year's Championship. Great format, I agree, except the Grand Final for all tournaments (barring COD: AW PC) were best of three Grand Finals. Crazy right? Upon enquiry I was told "this is a popular standard in the world."
No it absolutely is not. No tournament in the multiverse has ever had a double-elimination with a best of three Grand Final. Sure, they sometimes drop the game advantage, but it's always a best of five. Think about it this way – The Winner Bracket Final is a best of three, if the two teams face each other again in the Grand Final, and the opposite team wins it means they're tied both winning a best of three. It makes absolutely no sense at all.
However, I was looked in the eyes by the admins and told it's the new world standard instead of them telling me they don't have enough time to complete a best of five on Sunday because they have to leave the area by 13:00. Biggest League and Tournament in the country, sure.
Prizes
The DGC are still working on an age-old model which was acceptable five to six years ago. That model is giving away sponsored prizes to teams who win instead of just cash. Each year the DGC boast "R200 000 in prizes for DGC blah blah," where the truth is the majority of those prizes are made up of gear; gaming merchandise, laptops, headsets et al.
This model worked perfectly a few years ago. The idea is big sponsors get involved and give away peripherals or PCs to the winning team with the idea that "DGC Champions are using Razer and Alienware," which was great back then, but now top teams who are winning these competitions are now sponsored either by the brands or by competitors of the sponsors involved. So what do these guys do when they win? They sell the gear giving the sponsor no exposure at all.
Why do they sell it? Because they need money, not computers. You can;t pay rent with a headset. The DGC are supposedly the biggest and best tournament in South Africa and you're telling me they cannot proposition or at least strong-arm sponsors into giving cash prizes instead of stuff that will be sold on Gumtree the next day?
These guys play in the Do Gaming League for eight months prior to the Championships and then most of them pay out of their own pockets to make it through to the Finals in Johannesburg. Even the top teams who win the Grand Final are getting R5000 each on average, for eight months of work?
The Booths and Spectators
This year DGC did away with their spectator area, and turned it into the casting area including an analyst desk and player booths (which we will get to in a second).  This left us with the issue of little to no live spectator areas to watch. Sure, they had TVs at the end of each row where you could watch the extremely laggy stream (and don't forget the awesome Telkom Stand where you can sit on the hard floor and watch a massive screen with no audio). The event was not spectator friendly at all, and many people voiced their opinions on that matter.
Back to the player booths. This year DGC built two really amazing player booths, filled with great PCs as well as 144hz monitors. The problem is, they weren't properly tested and thus couldn't be used at all. There isn't much more to this other than poor planning, or some factors I don't understand. The analyst desk and casting area were great and I must applaud the navTV team who, despite all the network issues and upset customers, did a great job at least try and keep everyone entertained.
In closing the best teams won in the end, and the tournament concluded but a lot needs to done. I'd like to see the DGL moving back to their cups and perhaps paying out players for the leagues as well. Their model is a bit out dated and I fear they will be left behind by other tournaments, Orena in particular. A good start is their recently announced Master Series, with its very own teaser trailer.
Like esports?
Check out esports central
Last Updated: October 13, 2015