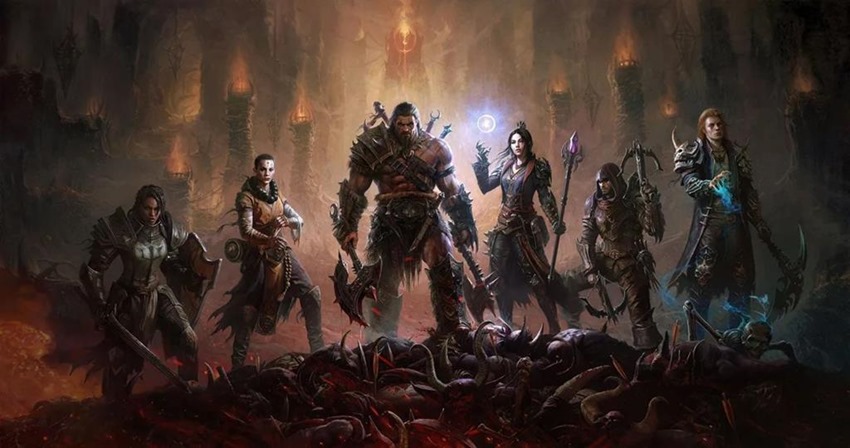 Like any RPG mixed with a pinch of MMO ingredients, Diablo Immortal will be a game of two distinct parts: Those glorious hours where you transform your chosen warrior into a demon-slaying powerhouse, and an endgame portion where you're constantly on the hunt to make monsters bleed increasingly large numbers of mathematical equations from their heads.
Blizzard isn't ready to share too many details yet on its endgame, but in an interview with Diablo Immortal lead producer Caleb Arseneaux and senior system designer Kris Zierhut, the duo revealed that not only would the endgame be a substantial chunk of action to explore and grow in, the journey there would also take players a fair amount of time. "It's going to take a while to get max rank," Arseneaux said.
It is similar to other MMOs in that respect, you have to invest in your character, get through the main storyline, experience all the adventures that we have planned for you. Our endgame is meant to be something that people can replay and feel like it's interesting. That's a big goal for us.
"We have a lot planned for the endgame, it's frankly huge," Zierhut added.
You're going to be spending a long time at max level, collecting legendaries, crafting legendary gems, earning Paragon levels, ranking up your gear, and lots of other game systems with progression and competition on them. It wil be keeping players busy for a long time. Social will be huge. I think I'm most excited by the multiplayer aspects.

You have a server with thousands of other players that are part of this larger community, who'll be working together against challenges. There's a huge social game, huge social interaction, the opportunity to run into other players in the wilderness of Sanctuary, build guilds, and have a great time as a social experience.

We're breaking new ground that no previous Diablo game has.
Diablo Immortal doesn't have a set release date yet, but the game is part of the company's wider strategy to look more at the mobile market and create spin-off games tailored for an audience on those pocket handheld systems. For more on Diablo Immortal, here's a preview of how the RPG plans to retain its core complexity on a smaller screen.
Last Updated: February 23, 2021