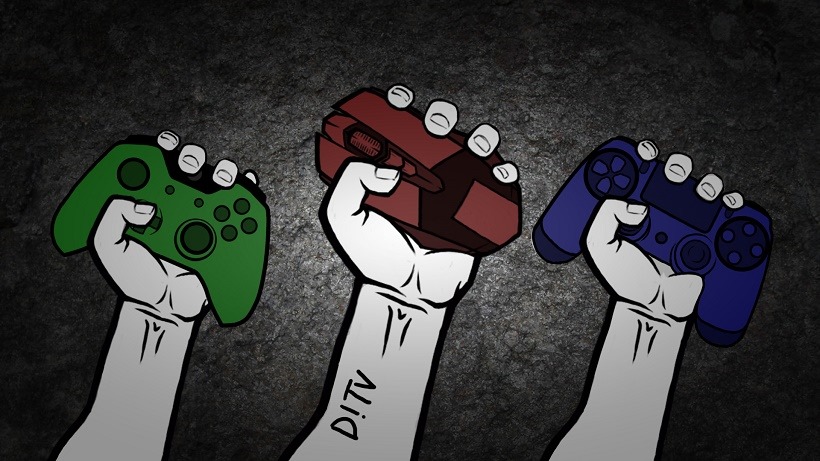 DintIt.tv recently celebrated their first year of service, a service which saw 20 million unique monthly viewers, 80 million views, and 743 years watched of their video content. The new startup has been called a "Twitch rival" but in reality, it's so much more.
DingIt.tv uses a unique internet protocol unmatched by any streaming service. This enables a much more pleasurable streaming service of high-quality video, making use of far cheaper running costs which allows them to focus and invest in original content. The streaming world is a harsh one, and with competitors such as Twitch and Google, DingIt.tv held their own in their first year despite being a small start-up. A company as large as Google has struggled against the growing popularity of Twitch, but not DingIt.tv. In the past they've partnered with companies such as FACEIT to bring high-quality Counter-Strike: Global Offensive tournaments streamed live to their service. They've also worked alongside Riot and various Starcraft II tournaments.
We were lucky enough to get a few moments to chat to DingIt.tv about their streaming service.
It's well known that the United Kingdom is not the biggest community when it comes to eSports. In 2014, G-Finity brought a few major tournaments tot he UK, and FACEIT has made it their home base. The decision by DingIt to set up shop in the UK was an interesting one.
"The UK was a natural choice for us as a center of operations," Adam Simmons, Director of Content said. "Our goal from the outset has been to provide a superior streaming experience to viewers and being based in the UK provides us a good central location to manage our global expansion. In our first year, we have already set up teams in Poland and South Korea with more on the horizon."
DingIt is growing, and with growth comes expansion. It's always interesting to get an international take on our very own expanding scenes. One of the biggest issues with Twitch, for a South African, is that there are no available servers here. We often have to stream to Europe, but Dingit's rapid growth could spark some interest down South.
"Global reach is one of the big advantages of our technology and as part of that, running events in high growth markets like South Africa, South America, Asia and the Middle East is a high priority for us," Simmons told us. "One of the key differences between traditional sports and eSports is that geographic location plays a much smaller role in the events players are able to partake in and, as such, most of our events are banded via skill level rather than specific locations. Having said that, though, due to the nature of online games, running events focused on specific regions is necessary to maintain a competitive environment. We already run events catering to North America, Europe and Asia; expect to see more added!"
Should that happen, DingIt might become the preferred choice for local streaming. The Internet has always plagued our local guys and those who can stream often do it at the cost of not allowing anyone else on the net. DingIt's hardware and internet protocols could aid us in the future, which will in turn boost our local demand for streaming.
"As long as a user's local connection is sufficient, they will be able to broadcast to and watch DingIt streams regardless of their location in the world. Our expansion into new locations is limited only by creating sustainable, valuing adding content and events," Simmons says.
Major streaming services such as Twitch often sponsor major teams and events around the globe. Their partnerships bring in hundreds of thousands of viewers and aid the growing interest of eSports. DingIt has in the past partnered with broadcasters and tournaments, but 2016 could be the year they aim higher.
"Our first year exceeded even our own expectations thanks to the great work of our internal team and content partners, as well as the support from viewers who tune in," Simmons asserts. "Being our first year in operation, it also provided us with a large amount of feedback on the site and service which has all been taken onboard and is constantly fueling our development. In 2016 we are looking to expand into new markets, increase the volume and quality of eSport events we run and also diversify the content we produce.
What would set DingIt apart from their rivals would be their very own independent studio inviting shoutcasters and personalities to broadcast live from their headquarters. This would seem like an essential step as we move towards mainstream broadcasting and television, and perhaps this could be something DingIt are in fact interested in.
"We currently work with a range of highly skilled, professional content producers that create the fantastic broadcasts so many enjoy tuning into. By working with independent broadcasters, we are able to help make their fantastic ideas into reality in a way that benefits all parties from the players to the viewers and DingIt,: says Simmons. "Creating a DingIt studio is definitely an interesting idea and, as with most ideas with potential, is something we do look at on a regular basis. For us, anything we do has to meet with certain criteria such as if it will add value to the gaming community, improve viewer/user experience and if it is sustainable. When those (and a few more) criteria are met, we are keen to invest in great ideas!"
Speaking of production and television, DingIt could aid local broadcasting companies, as with the BBC or Sky Sports, to take notice of competitive gaming. The question, of course, is whether this is something DingIt are interested in or moving towards.
Our streaming technology offers a wide range of benefits for both content creators and viewers. We are always looking at ways we can create a better experience for viewers and the types of content we deliver.
Touching on above was the prospect of having their own tournaments or cups, aside from partnering with major tournament hosts. DingIt have run their Weekly Cup for CS:GO in the past, but could a DingIT branded tournament be on the horizon? It's possible.
"We're definitely scaling up the content we are producing. Our aim in 2015 was to build our audience in a similar way any new streamer does – consistent, quality content. Running daily and weekly events mean that we were able to provide our audience with a reliable broadcast schedule and build up a library of VOD content. Moving into 2016, we want to increase the diversity of our content, number of events and the scale of our events!"
Finally, numbers. It's important to provide the best content to your target market, but what is the target market? While Twitch offers a variety of games, talk shows, music, etc. it's important to note that DingIt's focus, for the time being, seems to be leaning towards competitive eSports. It was important that I asked which game seemed to bring in the most traffic and quite frankly, I wasn't surprised.
"Very difficult question," Simmons says "as different games and content types have different patterns of viewer engagement. The games that draw the biggest "support" really depends on what you class as a response from viewers. Total unique viewers, we find Counter-Strike to be the most popular whereas for average minutes watched of a stream StarCraft 2 ranks very highly. There are also big differences between live eSport events, VODs and our highlights in audience characteristics. Ranking eSport titles on the support are always tough because each have a very passionate and dedicated audience – I am a firm believer that being a fan of the "best" eSport isn't important, being a fan of the game you love is!"
Last Updated: March 9, 2016