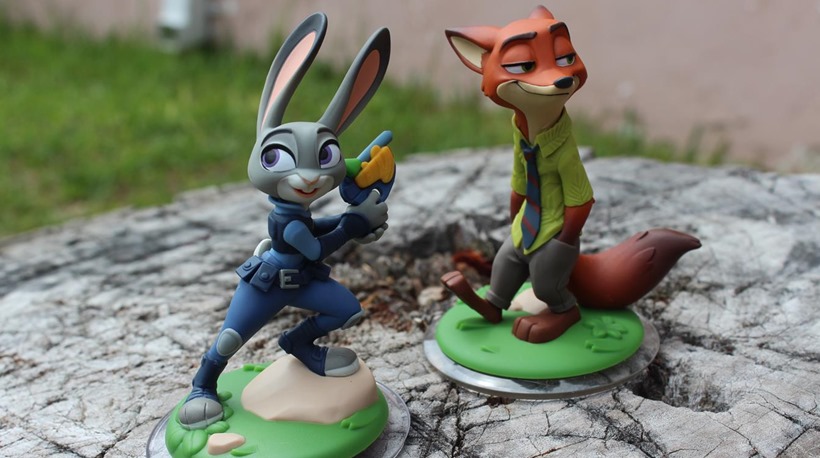 I'm pretty much all Star Warsed out right now, thanks to Disney Infinity 3.0 scratching an itch that spread across three entire generations of Jedi and Sith antics. Disney Infinity 3.0 covered pretty every character that was possible in 2015, although I'm still holding out for a Star Wars Rebels Hera Zendullah down the line. So what's 2016 got in store for the franchise? More Marvel, and more Disney Originals it seems.
While Marvel Battlegrounds is out later in the month, so too is the latest Disney animated flick, Zootopia. Here's a trailer for it, so you can see that there is a place worse than our own local traffic department. One run by sloths. Actually, I don't see much of a difference:
Right, new film, new Disney Infinity characters to go with them. Here's a quick breakdown of the figures:
Nick Wilde
I think I may have found my spirit animal. Clearly a laid-back figure, with a few schemes up his sleeves and a cunning to get him out of work. That, and I have a lifelong addiction to Arrested Development, so any CGI character voiced by Jason Bateman is a win in my book. There's a lot of detail on this figure, that you wouldn't expect to find.
For starters, Nick's shirt happens to be made up of leaves. Actual leaves, fashioned into a button-down shirt and finished off with a terribly-tied Windsor knot tie. There's some lovely detail on the shirt, with the individual leaf designs standing out when you pay closer attention to them. It's that body language that makes me like Nick so much however.
That casual demeanour, topped off with a devious smile and a cunning plan in the works. This guy is going to my front row with the rest of my favourite figures. In the actual game however, Nick is ridiculous. He flings around a gigantic ice cream as if it were a steel chair in a WWE TLC match with wreckless abandon. It's so weird, yet wonderful, making me like the guy even more…Where'd my wallet disappear to?
Judy Hopps
Judy Hopps is adorable. Which is the whole point of her character, as the rascally rabbit struggles to be taken seriously in a police department that is filled with Apex predators and top of the food chain herbivores. She's cute, fluffy and she packs some serious heat. Despite the fact that she looks about as harmless as a pillow factory, she's got some decent ranged skills in Disney Infinity 3.0 and a bicycle kick that could give Liu Kang a run for his money.
Her figure is also a more energetic and active character, something that juxtaposes nicely with Nick's casual attitude.
Don't forget, there's more Disney Infinity news being revealed later tonight, around 8PM local time. Keep an eye out for hopefully more figure reveals.
Last Updated: March 1, 2016