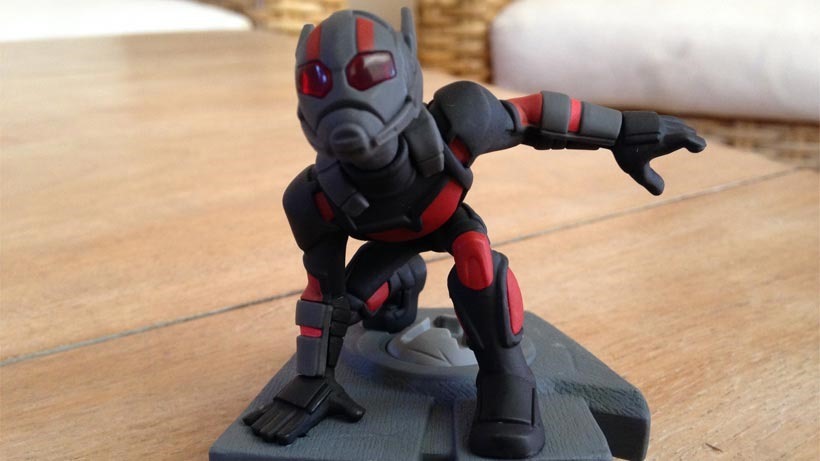 Disney Infinity has been stepping up their game lately when it comes to new figures. And with a more staggered release of new playsets this year, they're also focusing on new franchises within the 3.0 series to play around with. The first such bunch of new heroes? A bunch of Avengers who are getting ready to throw down in the Marvel Battlegrounds.
Captain America
Captain America's original appearance in Disney Infinity was…alright. He wasn't sporting that awful costume from the first Avengers movie, but his appearance didn't have the finer details that characters such as Thor, Black Widow and Hawkeye sported. Somewhere between the release of the first Captain America movie sequel and Avengers: Age of Ultron, that all changed.
Gone was the wonderful World War Two combat outfit, replaced with a sleek and modern redesign that felt like something that a super-soldier would wear in the field while retaining all the stars and stripes of the original comic book source material. This Civil War-inspired figure echoes that design, while keeping the perfect teeth and cheek bones of the good captain out in the open.
It's a more somber figure, but it's still fantastically detailed. There's section all over featuring depth, the paint job is solid and the pose is pure confidence, born from the First Avenger movie poster. I really like it, and when compared to that 2.0 Captain America, it's leagues better but is still ready to punch Hitler. Love it.
Vision
Disney is really stepping up their game lately with their figures and quality control. Vision is a prime example of this, a powerhouse character that also has a certain grace to his AI roots. The cape of course, is magnificent. It flows, looks cool and sports some really beautiful lines. The rest of the Vision design is quite stunning as well.
It's clearly modelled on Paul Bettany's character, but it retains that mixture of Infinity and Pixar design that you find in every character. The boots are popping, the pose makes me want to use him immediately in battle and the face is surprisingly detailed. Here's the thing though: It's the eyes where Vision is at his best. They're just a touch more developed than on the other characters, but it makes a world of difference.
Ant Man
And now my favourite of the lot. Ant-Man is one of my favourite Marvel movies, as well as one of the best heroes that they have. I haven't been too sold on his costume upgrade in Captain America: Civil War, but this figure has changed that outlook for me. Disney could have gone and made a tiny Ant-Man figure, and it would still have been brilliant.
Instead, we've got a locked and loaded Scott Lang who is ready to roll out, with eyes that glow in the right light and a costume filled to the brim with piping that can funnel Pym Particles around him. The best bit though, is his stand which references his size-shifting powers.
Black Panther
I haven't got my hands on this guy yet, due to delays, but I'll update as soon as I have some Wakandan royalty to review.
Last Updated: April 15, 2016