Thanks to The International 2016, Dota 2 climbed the rankings to earn top spot in August as the most watched eSport. This comes as no surprise as this year's International boasted a prize pool of over $20 million and some of the most exciting games in the history of Dota 2, especially throughout the group stages. Climbing up the ladder as well was Overwatch which jumped three spots to become the 5th most watched eSport in August.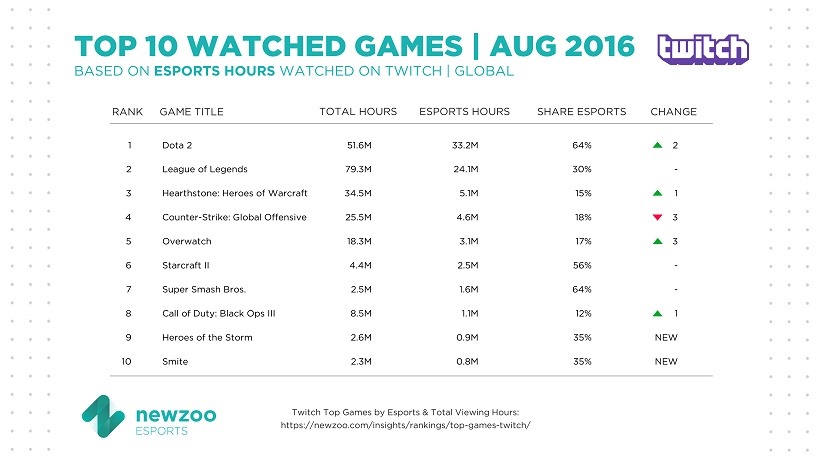 Of course, League of Legends still remains the top contender for most viewed eSport, but the most interesting change comes from CS:GO which dropped three spots in August largely due to the shut down of various gambling sites and most notably CS:GO Lounge. While this is a considerable concern for CS:GO viewership, there was no real major tournaments in August as Valve focused primarily on Dota 2 leading up to the International. However, the next few months will be interesting as CS:GO majors approach and the viewership numbers will see a slight decline due to the Lounges absence.
Gamescom Cologne and the Overwatch Atlantic Showdown bolstered the viewership for Overwatch as the inaugural "big offline" tournament for the new eSport brought in a considerable number of viewers. Overwatch has since begun to dwindle in viewers as no major tournaments are set for August, other than the qualifiers for Turner's ELEAGUE which is taking place later this year.
There are a number of interesting drops in the August report with Pokemon Go dropping 10 places in hours watched.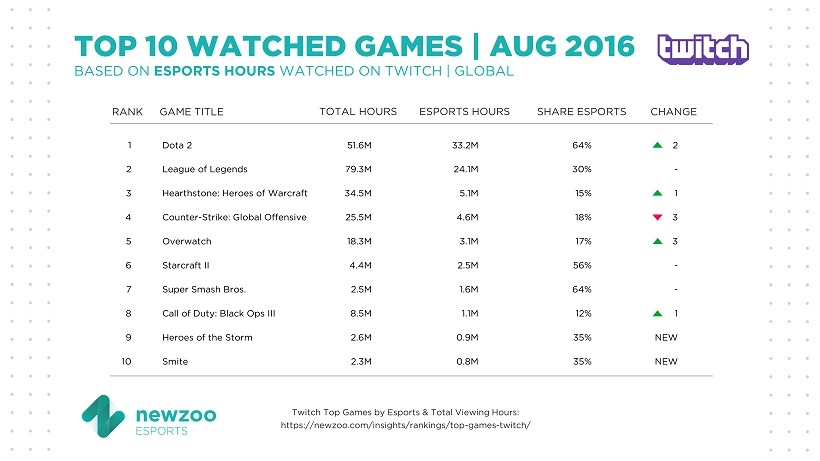 League of Legends remains untouched as their steady viewership grows each month. Hearthstone is also a steady climber as their dedicated audience retain their numbers.
For September, World of Warcraft has seen a considerable jump in viewership whereas in July it did not feature. Moving on, in November, BlizzCon will feature a number of titles such as Overwatch, Hearthstone, and even Starcraft 2.
These viewership reports are always interesting as it shows a clear distinction between not only the different eSports title, but the dedicated viewership which follow them. It also gives a great insight into what makes an eSports enjoyable for continuous viewership, as opposed to the hype surrounding a major event.
Like esports?
Check out esports central
Last Updated: September 16, 2016