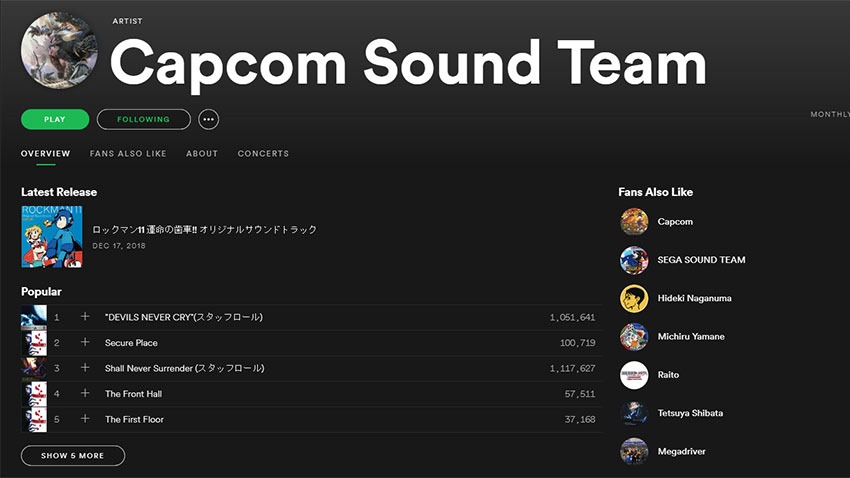 You're at work, the papers are piling up and you need to get cracking if you want to keep your white collar clean and juiced in detergents. I'm guessing, I have no idea because my own work experience teeters between lion park, waiter and online website punching bag. I'm also pretty certain that Office Space is a documentary because printers are bastards.
Anyway, there's no better way to put your mind into work-mode better than a crank of the volume button and a blast of some tunes from your music service of choice. Plus, it's way more legal than inhaling a line of Columbia's most infamous export through your nasal cavities. These days, I've got a ton of playlists on Spotify that helps focus my mind for the content that needs to be produced, and I think my library is about to grow thanks to Capcom dumping decades worth of soundtracks into that service.
While Spotify already has a stunning selection of video game soundtracks (I'm listening to some Il Dovakin from the Skyrim selection right now), Capcom's sound team just loaded everything from Mega Man to Monster Hunter World for fans to listen to. And it's brilliant. You'll need to a refresher course in Japanese if you're looking to spot any one specific album, but seeing as how video game art is easy enough to use as an identifier, visually picking out specific collections of music is easy enough.
It's just the tip of the audio iceberg as well, so here's hoping that the Capcom Sound Team adds more to their library. The Street Fighter and E.X Trooper albums are great on their own, but I'm hungry for some chiptunes and dips, if you know what I mean. Now if you'll excuse me, I think I hear the siren call of incredible guitar solos and bangin' drum arrangements of the Devil May Cry 4 soundtrack.
Anyone got any other recommendations to share when it comes to Capcom tunes? I want to know below. I require as much of the metal which is heavy, for my gym soundtrack.
Last Updated: February 12, 2019