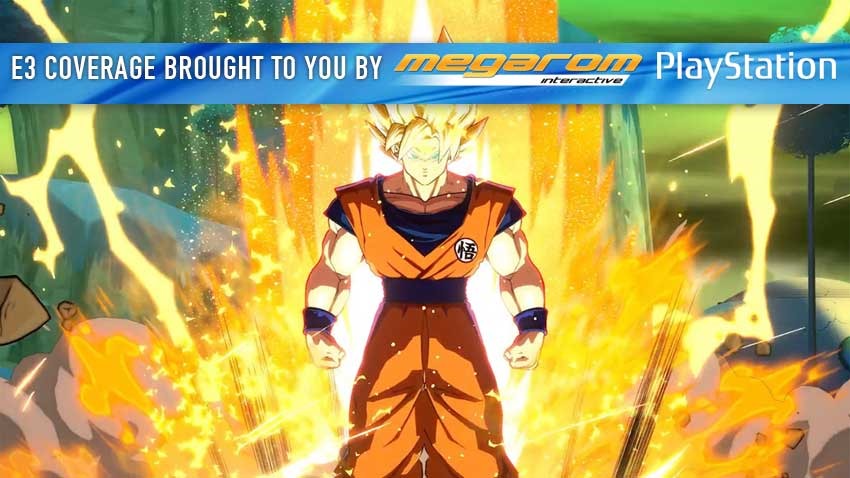 If Dragon Ball Z games have been defined by anything in the last decade, it's their visual reliance on recreating the saga of Son Goku through three-dimensional visuals. Games like the Budokai series, the 360 era Ultimate Tenkaichi and more recent XenoVerse titles have all favoured that extra dimension of energy and action over the two-dimensional source material that Shenron hails from, a system which has its pros and cons.
I've always thought that 3D Dragon Ball games had lost a little of the charm of their manga inspiration when they were converted into 3D fighters. Akira Toriyamas art may be suitable for the 3D medium, but it always looks best to me when kept to two planes of our dimension. It's why Dragon Ball Z games like Super Butōden, Hyper Dimension and Supersonic Warriors still holds up so well today.
n
Bandai Namco knows this, which explains why Dragon Ball Fighter Z exists. Not only is it a proper return to the format that suits Goku and pals best, but the publisher has tasked the best possible developer for the job: Arc System Works. They're the company behind Guilty Gear and its more recent Xrd incarnations, games which hailed from 2D anime-styled backgrounds and made the leap to 2.5D action.
Guilty Gear Xrd is one of the best fighting games around on console, a pure and energetic brawler that makes the most of the Unreal 4 engine to deliver blazing blows and attacks. Dragon Ball Fighter Z is more of that. It's also bloody marvellous as a result of Arc System Works religious attention to detail that focuses on everything related to Dragon Ball Z. Normally a fighting game easily commands attentions to its core mechanics, but in the case of Dragon Ball Fighter Z those gameplay elements are intrinsically tied to the graphics.
It looks downright stunning in action. Goku's Super Saiyan form bristles with energy and blue lightning, Frieza smirks constantly while in his Golden Form and I swear I saw Buu's massive guts jiggling between punches that could crack a planet in half. The tag team matches that form the core of Dragon Ball Fighter Z  play as good as they look, favouring speed and power to create flashy matches that often leaves the planet you're standing on shattered and burning.
Each of the six characters in the E3 demo also brought enough variety to the table to feel like heavyweight options when you started experimenting with them. Here's a quick rundown of their skills"
Goku – Your Jack-of-all-trades fighter who can push through enemy Ki attacks and fire back with a Meteor Smash.
Gohan – Short and lacking a decent reach, Gohan still packs a ton of power into his attacks and is a counter-heavy monster.
Vegeta – Likes to rush in and beat down on opponents, using Ki Blast Rush specials and several melee-heavy attacks.
Frieza – Long-range bastard, uses many energy attacks to push opponents back and has a Death Saucer attack that can only be dodged.
Majin Buu – Slow, but powerful and capable of unleashing attacks from a distance that closes the gap between him and an opponent.
Cell – Simply perfect, if you believe him. Mr Perfect Cell s as versatile as Goku and has a Telekinesis Crush attack that can't be blocked.
There's still plenty of work to be done on Dragon Ball Fighter Z before its ready for the big leagues, however. Bandai Namco told me that the demo on offer at E3 only represented 20% of the final game. A game which even at a stage this early has made my nipples hard enough to cut diamonds.
Need more E3 in your life?
Check out our E3 2017 portal powered by Megarom Games and PlayStation
Last Updated: June 15, 2017