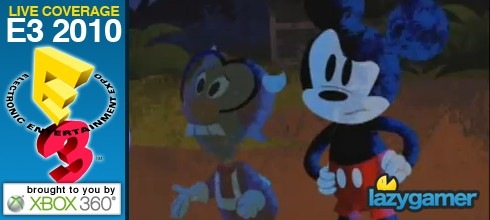 One of the games I thoroughly enjoyed watching, if not playing, at E3 this year was Epic Mickey for the Wii.
Unfortunately when I was around the queue was pretty lengthy and I had appointments to get to so I couldn't wait around to long, but I did manage to watch a couple of people trying it out for a few minutes and from what I saw I was impressed.
The game as I understand it has you playing as Mickey who has the ability to either paint things better with colour or use a paint thinner to destroy things.
The Disney reps were very careful not to use the word Evil when describing the use of thinners but that really is what it is. Mickey can simply destroy things at will with his thinners and the more he destroys the more little green orbs begin following him around.
Not only do these orbs remind you that you're a really naughty boy but they also server the dual purpose of being able to attack enemies if they come to close.
The other gameplay mechanic I saw was the ability to sell things to Goofy in the shop or buy unique items off him. What I saw also was that you can sneak into the back of his shop and steal what he has in his store room and then sell it back to him in the front, which is a pretty immoral if not funny thing to do.
The most artistic part for me was when you transitioned between levels and the game changed from a 3D adventure game to a side scrolling platformer for you to navigate across before entering the next area. The entire side scrolling section is in black and white and just looked fantastic.
GameTrailers has put up 2 indepth video's explaining Epic Mickey which can be seen below.
Part 1
Part 2
Last Updated: June 18, 2010