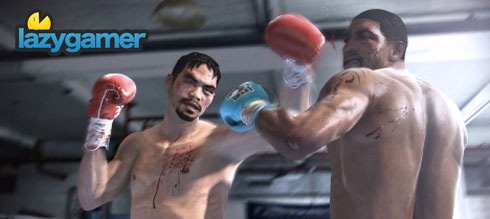 Earlier today, EA announced that they'd announce more things later. One of those things is Fight Night Champion, set for release in 2011. The fifth game in their Fight Night series, Champion looks to be a worthysuccessor to last year's Fight Night Round 4 – which we thought was pretty damned good.
The game's biggest new feature, say developers EA Vancouver, is a new single-player mode, which will "break the mold of what is expected in a single-player sports game."
"Players will be introduced to an entirely new way to step between the ropes and experience the drama, emotion, excitement and tragedy of world championship boxing," further adding that it would be "the full meal deal with desert and a toy. The whole enchilada. All that and a bag…" Man, I love hyperbole.
With a roster of between 60 and 65 pugilists, the game will also offer "Full Spectrum Punch Control," a new control scheme that will apparently be "the most realistic punching system ever seen" and will allow players to "to move the combatants around the ring and throw some of the most devastating punches ever seen in a Fight Night game."
I'm a big Fight Night fan. It's one of the few games where my drunken non-gaming mates can get together without them being overwhelmed and still have a good time, so count me in – and not out.
Source : IGN
Last Updated: July 20, 2010