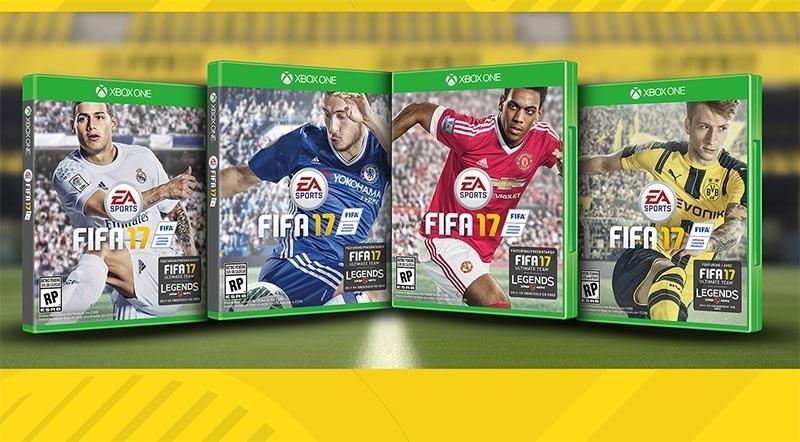 With seemingly perpetual cover star Lionel Messi having bowed out of international football, he's no longer a suitable candidate to adorn the front cover of EA's annual football sim, FIFA. The choice of who to put on the cover of this year's game is a tough call, especially for me as I know nothing about football or its current stars. Gooooooo Eric Cantona!
Thankfully, the choice of who'll be the cover athlete isn't up to me. It's up to you. EA's letting fans vote for the next FIFA cover star. From July 5 to July 19, you'll be able to vote for your favourite football champ – from a list of four. Here's who they are:
James Rodriguez
The Real Madrid number 10 burst onto the world scene with his outstanding display in the 2014 FIFA World Cup, where he won the Golden Boot with six goals in five games. The talented midfielder is the current captain and pride of Colombia. Vote for James and show your support on social media using #FIFA17JAMES.
Marco Reus
Marco Reus is the definition of a technically proficient footballer. Strong with either foot, lethal from a dead ball, and with a knack for scoring important goals, the German international has featured in the Bundesliga Team of the Year four times and is the heart and soul of his hometown club. Support Reus on social media with #FIFA17REUS
Anthony Martial
Winner of the 2015 Golden Boy Award for the best under-21 player in Europe, the Manchester United striker scored 17 goals in an incredible first season and also made his senior debut for France. Vote for Martial, and back him on social media using #FIFA17MARTIAL.
Eden Hazard
The 2014/15 Premier League Player of the Year, Eden Hazard can be impossible to defend, possessing dazzling skills, touch and penetrating dribbles which help create magic from any situation on the pitch. Support the Belgium captain and Chelsea star on social media using #FIFA17HAZARD.
You can vote for them here. Until today, I've not heard of a single one of them.
"James, Martial, Hazard, and Reus represent exciting, attacking football and epitomize the innovative play that fans can expect in FIFA 17," says Nick Channon, Senior Producer for EA SPORTS FIFA. "We're excited to see fans rally around their favorite players and see who they select as the cover star for the franchise, and the footballer who will represent FIFA 17 globally."
Last Updated: July 6, 2016