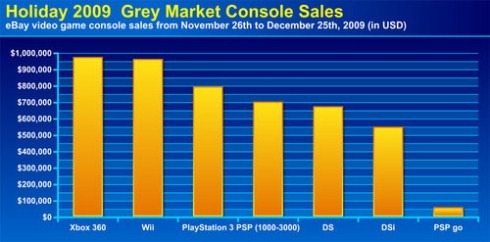 It's going to be at least a week before the analysts return from their million dollar yachts and 5 star hotels to let us know who really won the holiday shopping war but until then we can keep ourselves occupied with the less than accurate sales from online stores and auction sites.
First up is eBay which allows people to track sales using their market research application which Michael Fahey from Kotaku used to great effect in compiling these stats.
The graph above shows us in pure dollar terms who won (Xbox 360 slightly ahead of Wii) and who lost… let's actually just take a second to see how abysmally the PSP Go faired and to remember why the retailers are not backing it.
When you dig deeper into the stats you can actually see that the Nintendo DS was the most sold item (5217) with the Wii close behind (5053) and the 360 coming in third (4541).
The average price for a PSP Go was $232 and the PS3 $311.
For all the gruesome details click through and take a look.
Source: Kotaku
Last Updated: January 4, 2010