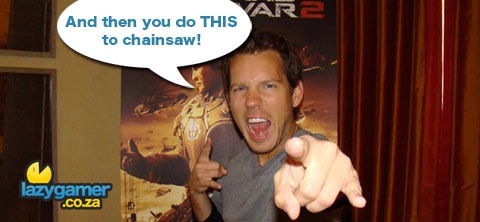 Epic Games have been making successful games for quite a while now, and always pride themselves on being on the bleeding edge of technology when it comes to their games.
When it comes to the new technology offered by Project Natal, it looks like they couldn't really be bothered. Epic's Cliff Bleszinski had an interview with Develop, and while he seems to think that it has it's uses, it seems that he isn't very interested in making full use of it at all in future.
Should Epic be looking to use Project Natal in future? Here is what he had to say.
"Y'know, we'll take a look at Natal — no promises — but it's likely that the classic control interface is what Epic will be working on in the foreseeable future,"
"But I think there's ways that you could merge the two interfaces and supplement a classic game with Natal controls to make something compelling."
So it seems that they aren't completely against the idea of using the Natal in their games in future, but more looking to stick with the standard controller as their main input.
This makes a lot of sense to me, and where I see Natal really shining for hardcore gamers is for subtle additions that add to the immersion, such as simply having all in-game characters look the player directly in the eyes, and things like that.
What do you guys think? Any cool ideas?
Source: Destructoid
Last Updated: July 8, 2009