Something we often see while we mindlessly scroll through Facebook and Twitter are fake adverts featuring celebrities – "You won't believe what product Hugh Jackman used to sharpen his claws." Celebrities seem a little less phased as their PR agents deal with these on a daily basis, but it's now becoming prevalent with esports, and players are being used wrongfully to advertise damaging products – performance enhancing drugs.
It's times like this where I look to Supreme Overlord Donald J. Trump and praise his efforts to rid America of fake news. This is fake news at the highest, and one player had to handle his own PR nightmare via Twitter. Søren 'Bjergsen' Bjerg, a professional League of Legends player from Team SoloMid featured on a news article alongside some performance enhancement drugs which could have proven extremely damaging to his career.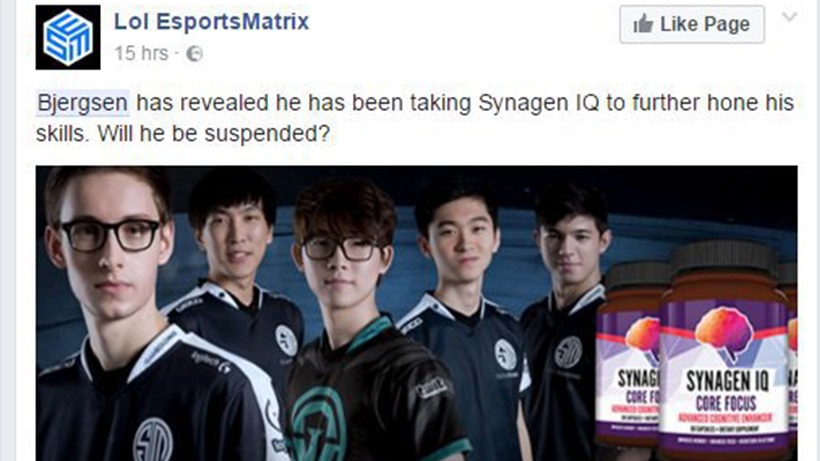 The problem is, Bjergsen never revealed anything and has now begun defending his honour on Twitter.
They're attempting to use my name to sell their dumb product, please report the ad if it pops up on your feed, also working on removing them

— Søren Bjerg (@Bjergsen) November 28, 2016
This is a real issue in competitive gaming after last year inquiry into the use of Adderall by professional players. While Adderall is readily available with a prescription, companies like this one are wrongfully using gamers to promote their products. Bjergsen is not the only one, Echo Fox's Ryan "Freakazoid" Abadir was also used to promote an enhancement drug, which was picked up journalist Richard Lewis in one of his videos.
This problem is persistent and the news site who posted it, Lol EsportsMatrix, offered an apology.
[Regarding the false statement on Bjergsen on 27th Nov 2016]

Yesterday, we quoted an article "NBC: TSM Bjergsen Forced to Reveal His Secret May Get Him Suspended" from anonymous source without verifying the accuracy of its content, such negligence should not be tolerated in the future.

We are not in anyway affiliated with any product sales and certainly will not deliberately engage in any activities that promotes a certain piece of content through the expense of any members of the community.

We deeply apologize for being unprofessional in this incident, and promise this will not happen again. (via Esports Force)
Here we go again with the whole ethics in journalism. A news site used an unverified source to tarnish a player's name. The apology might not be enough, as Bjergsen, TSM, and even Riot Games can drop the hammer at any time. This accusation can be met with serious consequences, and the damage has already been done. The fact that they quoted NBC as well is rather damaging, as it's unlikely that NBC would make the same mistake.
Last Updated: December 2, 2016