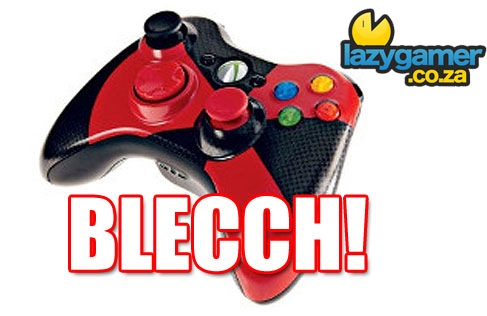 Gamestop and EB Games, two very large North-American retailers, have managed quite a coup. They've secured the exclusive right to distribute a 360 controller with a lovely new colour scheme. It's black and red all over, making it just one colour short of an obvious newspaper joke. It's also possibly the most hideous gaming hardware I've ever seen, coming just ahead of the Halo 3 vomit-green Mongoose edition of the 360.
Strangely, the hideous input method comes at a $20 price premium, instead of being at the much more appropriate price point of absolutely free.
Sure, it comes bundled with a Play and charge kit, but if the cable uses the same red and black faux carbon fibre scheme the only thing I'd use it for is to hang myself. $70 US? I'd rather eat shards of multi-coloured designer glass.
Here's an idea to entertain, Microsoft – Stop making new, disgusting controllers and spend that time fixing the awful, awful D-pad on the current one, ok? Don't get me wrong, the 360 controller – barring the aforementioned d-pad issue – is still my favourite controller this generation. But this? No. This is an assault on my eyes, my sensibilities, and my digestive system.
Source : Chipchick
Last Updated: September 22, 2009