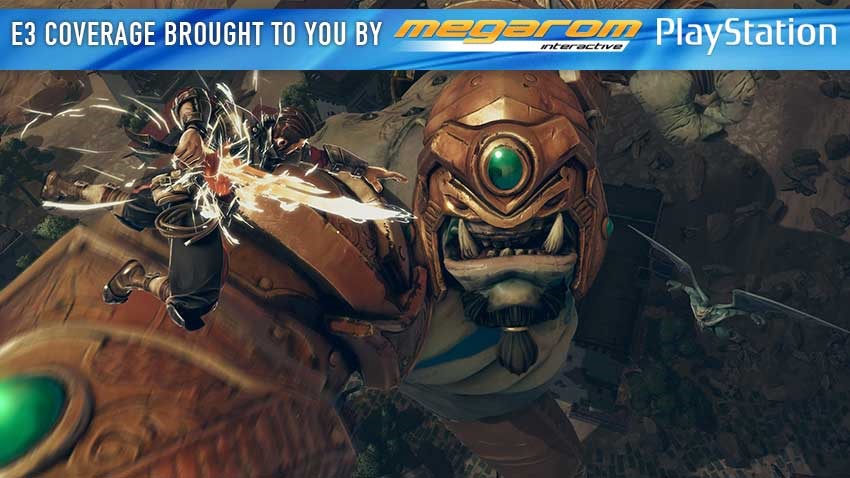 If I was staring down the boot of an ogre that happened to be the size of a skyscraper, I'd most likely find religion in those final moments. If I was Extinction's Avil however, I'd be reducing one of those ogres into a bloody quadriplegic and moving in for the killing blow. That's the game that Iron Galaxy showed me at E3, as their latest project spins a few influences from Spider-Man and Quentin Tarantino's Jack and the Beanstalk to create a world where humanity is indeed facing its final annihilation at the hands of gigantic abominations.
Creatures which tower massively over the citizens of various towns and rip through their barricades as if they were constructed out of wet tissue paper. The overall tone for Extinction is that of a fantasy tale, as the last member of an elite order of giant-slayers finds himself outnumbered by the mammoth creatures beyond the walls of various towns.
Avil may not have any allies in battle to call upon, but he's far from outgunned. For a game that features giants prominently, Avil is able to make easy use of dynamic verticality to traverse not only around a town's tallest structures but also up the Ogres themselves so that he can stop the creatures for good with a move that wouldn't look out of place in a Highlander film.
Avil's primary means of motion consist of dashes, jumps and whip-swinging movement to get as high as possible. The ogres themselves are a sizable menace, as they can spout off new limbs that have been hacked off after a period of inactivity and continue their fight from where they left off. Only a decapitation can put them down for good, although you'll have to chip away at their armour to find the sweet spot so that you can open them up for that lethal stroke of your magical blade.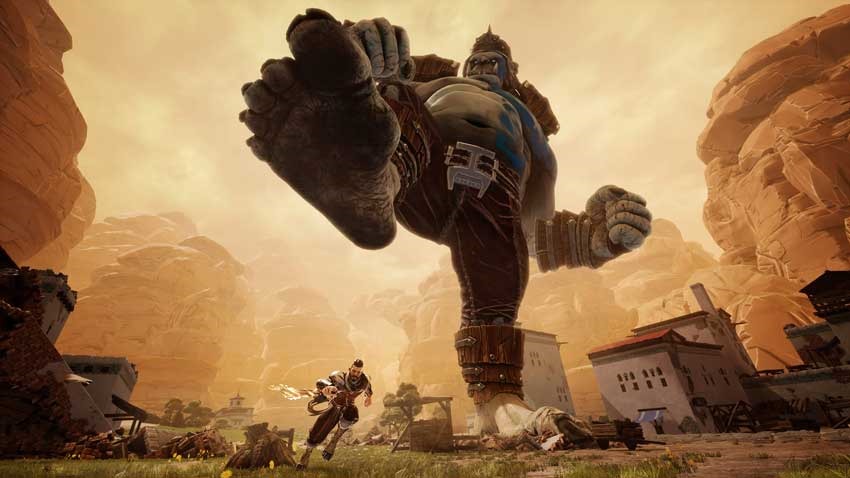 To make matters more complicated, these ogres are usually accompanied by several smaller fiends who harass you along your path, with several flying freaks serving as a meaty shield who'll knock you out of orbit just when you're about to drop a head-severing slice on the exposed neck of your titanic foe.
It all looks rather damn good actually. Iron Galaxy's combat system looks aces, with the threat level of these Ogres feeling massive in scale as you bounce between them and use skills that wouldn't be out of place in a fighting game on a more traditional two-dimensional plane as opposed to this 3D environment. "I think our experience benefits us in just knowing how to build the right systems to do a fighting game regardless if its 2D or 3D," Iron Galaxy's Victor Lugo told me of the shift to third-person action for the studio.
We kind of have that wealth of knowledge
We kind of have that wealth of knowledge. For us the challenge was deciding on what type of fighting we wanted to do. Do we want to go super-deep with a combat tree or do we want to go and make it very simple? He (Avil) has the ability to get around the world pretty quickly via his run, he can jump and double-jump. He can actually vault-jump if you hit the jump button as you land on the ground which will give you a little bit more height.

There are vertical and horizontal runs, there are multiple types of strikes he can do from ground-strikes to 360 strikes and launchers and ground-slams. Additionally he will be able to use the whip, you can slow down time a little bit and pick targets with the whip.
Extinction drops a few titans on your doorstep in early 2018.
Need more E3 in your life?
Check out our E3 2017 portal powered by Megarom Games and PlayStation
Last Updated: June 19, 2017