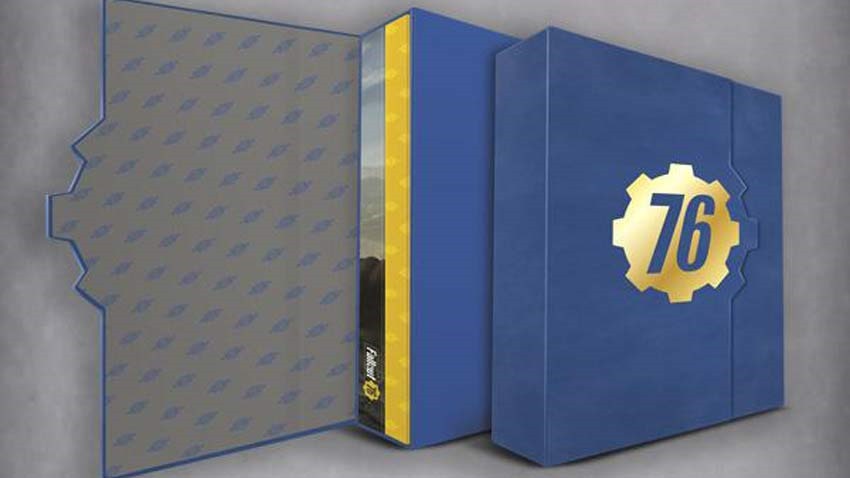 Oil sheiks and billionaire TV network tyrants have it all wrong. If you really want to flaunt your wealth, you don't have your new Ferrari gold-plated or hire Steven Spielberg's Mexican non-union equivalent Senor Spielbergo to direct a movie about your life. No my friend, if you're looking to flash some cash, there's no better way to do so than to buy a video game collector's edition.
What does it do? What doesn't it do? Sweet stuff-all, besides looking really nice on a mantle piece for the handful of people who'll actually know what it is. Heck, you can even go a step further these days, by buying a collector's edition that doesn't even include the game its various bits of plastic are based on.
Just like this Platinum Edition for Fallout 76, which includes the following goodies for $115 in the US of A. That's like a whole case of bottle tops.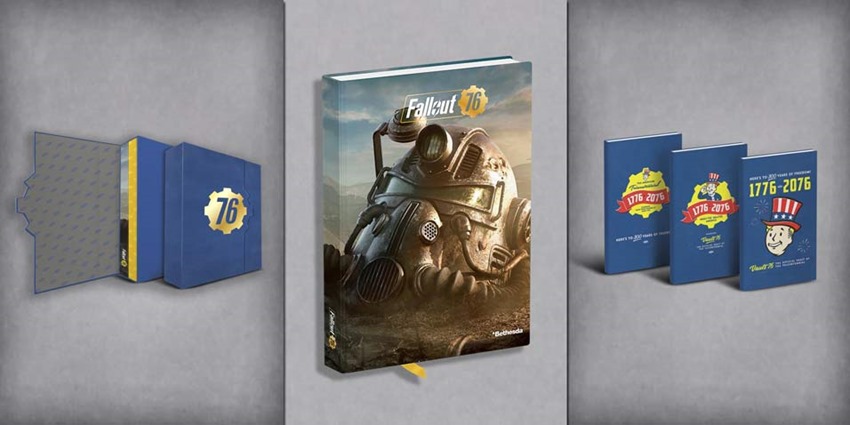 Digital Bonus
Unlock your digital version of this guide at game launch on 11/14 with the free code included inside. With interactive maps and a new checklist tool, it's an essential digital companion to your adventures!  Video Game not included.
Collector's Case
Safely hold your collectibles in a premium slipcase with foil-accented logo and magnetic closure.
Numbered Art Print
Original Fallout 76 concept art printed on 7.75" x 9.75" high-quality paper.
Three Mini-Journals
Reach for one of these pocket-sized notebooks the next time you need to scribble down a nuclear code! Each journal features Tricentennial-themed cover art and 64 pages of either blank, lined, or grid paper.
Appalachia Regional Postcard Pack
From the wooded slopes of the forests of Appalachia to the noxious crimson expanses of the Cranberry Bog, commemorate your travels through West Virginia with this custom six-postcard pack featuring art from each game region.
Local Brew Beverage Coasters
Labels from all five in-game varieties of beer adorn these durable coasters.
Premium Double-sided Map Poster
Over 850 primary and secondary locations are labeled on this 22.5" x 36" poster map. Wander with purpose using this comprehensive overview of important locales and the collectibles they hold!
Collector's Edition Guide with Alternate Cover and Treatments
This version of the hardcover guide, with alternate cover art and endsheets, plus a ribbon bookmark and matching endbands, can only be found inside the Platinum Edition.
Inside the Guide
Detailed training, breakdowns of every quest, guides to building and crafting, tips for teaming up, and a meticulous world atlas. It's the ultimate reference for Fallout 76!
I mean, it's certainly nice. It ticks all the boxes for a collector's edition these days: Art, drink coasters and a map of the game world. Jokes aside, for people wanting to try the game first before splurging on a premium collection of branded merch, it does the job. That's pretty much the whole point of these specific non-game collector's editions these days, a little something extra for the most dedicated of fans.
If you like this kind of thing, then that's just fine and dandy. Which is probably why you're chomping at the bit for that upcoming beta, ahead of the game's November launch. Tell you what would really make this Platinum Edition stand out though: An authentic bottle of only slightly irradiated Nuka-Cola.
Last Updated: October 19, 2018