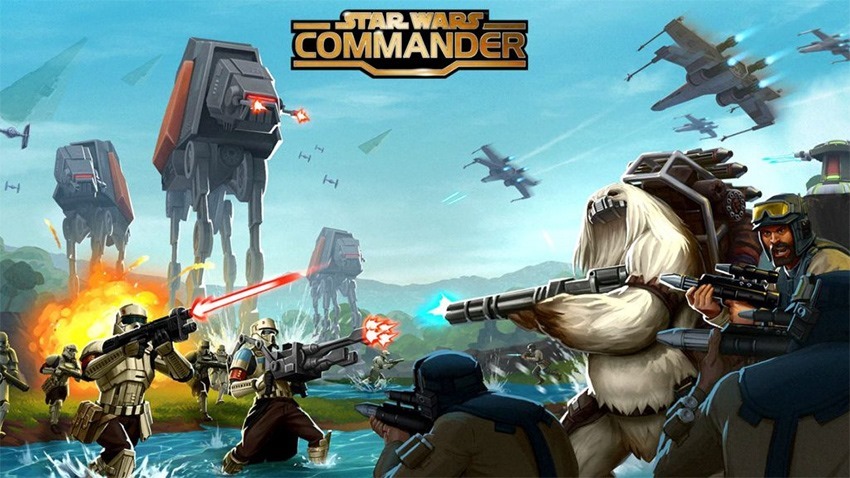 Zynga, the company you likely know as the one that infected Facebook with Farmville, has signed a multi-year agreement with Disney to make a mobile game set in the Star Wars universe. On top of that, the company will take over the running of the currently in operation Star Wars: Commander, a mobile tower-defence game. That game was developed in-house by Disney Interactive, but the House of the Mouse is no longer making or maintaining video games.
It's a non-exclusive licencing deal, so it may not affect Electronic Arts, who not only has the console and PC Star Wars licence, but also developed their own turn-based Star Wars team battler, Star Wars: Galaxy of Heroes. The former EA executive responsible for netting EA the Star Wars licence, Frank Gibeau, is now CEO of Zynga, and it seems he may still have some sway with Disney.
"Star Wars is one of the most iconic franchises in the world and has engaged generations of fans for decades. As game makers and moviegoers, we're huge fans of Star Wars and are excited to create new experiences for players that bring this beloved brand to life," said Gibeau.
We look forward to extending the reach of the Star Wars universe and developing a new mobile game that entertains players for years to come and has the potential to be a future forever franchise for Zynga.
The new, unnamed mobile game will be developed by Zynga's UK-based NaturalMotion studio, whose work includes CSR Racing 2 and Dawn of Titans.
"The opportunity with Zynga is the latest step in our mobile games licensing strategy, which pairs Disney characters and stories with proven partners to create unique games for our fans," said Kyle Laughlin, senior vice president of games and interactive experiences at Disney.
Zynga's expertise in developing successful games and running live services makes them an ideal partner and we look forward to further extending the Star Wars universe through these new experiences.
As for what to expect? Who knows, but it'll undoubtedly be free to play. According to Sensor Tower, Star Wars: Commander has made over $80 million in microtransactions to date, while EA's Star Wars: Galaxy of Heroes has netted over $640 million since it launched. Given trends, I wouldn't be surprised if it's a collectible card battler.
Last Updated: August 22, 2018