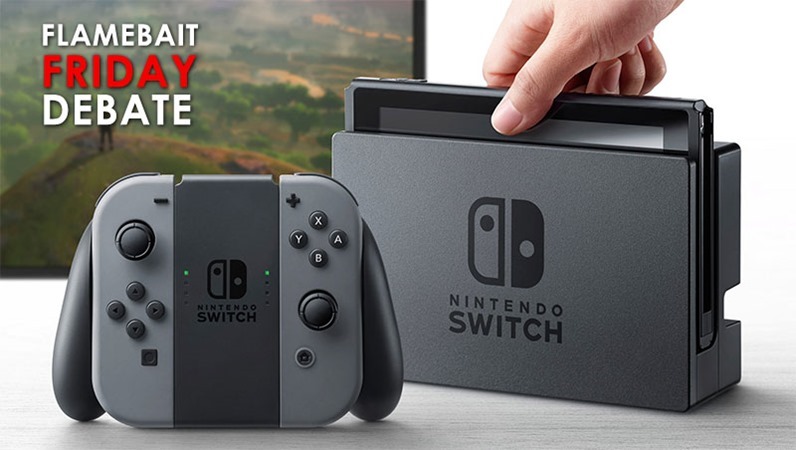 Yesterday, Nintendo revealed its impending new console, the Switch. Opinions are somewhat divided, with most in the industry fawning over the hybrid console, and many gamers – notably "core" gamers – thinking it's stupid.
Me? I'm very much enamoured with the thing. The idea of playing games on the go – or even just disconnected from the TV – and being able to play them on the TV as well appeals to me. That it's seemingly powerful enough to run "AAA" games is great. I love the idea of being able to play 1v1 or co-operative games just about anywhere with those little Joy-Con controllers, doubling that to 2v2 when two of them are connected ad-hoc.
The fact that'll it'll be home to a new Mario, and a portable Legend of Zelda: Breath of the Wild is really just gravy to me.
But there are dissenters. I get that – especially here in South Africa where there isn't a commuter culture. People drive everywhere, and generally prefer staying in their homes at night, which certainly does limit the appeal a bit. And for "core" gamers, there's not a lot that's inherently enticing, especially not the PC gaming crowd who crow on about graphics, mice and keyboards.
Thing is, this isn't made for you. It's made for younger people, who're inherently more social and outgoing. It's made for the more casual, smartphone gamer who wants a little more than the sort of things you'll find on phones right now. It's there to bridge a divide.
Realise that the hardcore gamer isn't as important to the video game ecosystem as they might like to believe they are. They're not indicative of the whole market. As an example. The latest NPD stats show that the top selling games in the US in the last month were almost all sports games. NBA2K, FIFA, Madden NFL, and NHL all took the top spots. Now imagine the people playing those games being able to play them wherever they like – and then carry their progress through when they are at home and dock the thing in.
The biggest worry, as has become usual for anything made by Nintendo, is the availability of software. It'll live or die on its content (and also its price). Without great third party support, this thing is dead in the water no matter how clever it is. Given the number of publishers on board, we may have nothing to worry about. Maybe.
But what do you think? Silly gimmick or tantalising bit of tech?
Last Updated: October 21, 2016