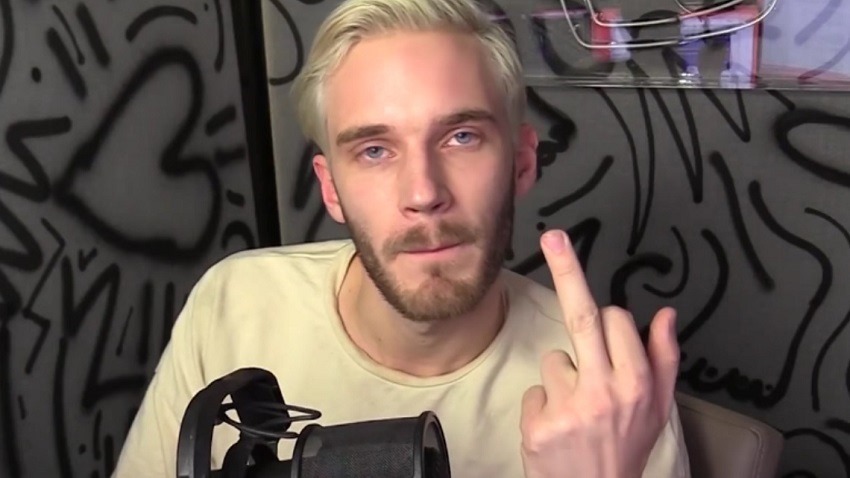 PewDiePie is no stranger to controversy, but this year is turning out to be one for the books. In February the YouTuber came under fire for a joke that many deemed anti-Semitic, initially reported by the Wall Street Journal. The dubious reporting and contextual omissions aside, PewDiePie lost his connection to Disney and a new YouTube exclusive show, eventually apologising for the gag and admitting it went too far. A few months later now, and the content creator is in the spotlight again, this time for using a racial slur during a livestream of PlayerUnknown's Battlegrounds.
The clip, which circulated quickly across social media last night, shows Felix "PewDiePie" Kjellberg screaming out the n-word after seemingly missing a kill in-game. "What a fucking n-. Sorry, but what the fuck. What a fucking asshole." Aware of the issues this moment might cause, PewDiePie and his guests online continue debating the moment throughout the stream, as tips keep pouring in spurring in on to repeat it.
In this video, PewDiePie can be heard saying the N word. pic.twitter.com/51lkg0kdWP

— Pop News Hub (@PopNewsHub) September 10, 2017
We have found footage of him saying he "forgets he's on live" and him then repeatedly saying the N word. pic.twitter.com/O2LPx2enYU

— Pop News Hub (@PopNewsHub) September 10, 2017
The clip is undoubtedly disgusting, despite the empty arguments claiming that everyone easily blurts out racial slurs in moments of frustration. It didn't take long for it to be the final straw for some other personalities within the industry too. John "TotalBiscuit" Bain, himself an often contentious figure in the eyes of games media, called out Felix's actions as indefensible.
which is why I had no problem defending him on the WSJ thing but this is indefensible, there's no "context" that excuses it.

— John Bain (@Totalbiscuit) September 10, 2017
Sean Vanaman, founder at Campo Santo and one of the designers behind Firewatch, then went a step further. In a series of tweets he explained how the company would be filling DMCA takedowns on any and all existing videos PewDiePie has produced with their games, and would do so for all games in the future.
We're filing a DMCA takedown of PewDiePie's Firewatch content and any future Campo Santo games.

— Sean Vanaman (@vanaman) September 10, 2017
He's worse than a closeted racist: he's a propagator of despicable garbage that does real damage to the culture around this industry.

— Sean Vanaman (@vanaman) September 10, 2017
The legalities around DMCA claims is murky at best, but most lawyers tend to agree that this sort of action is entirely legal. YouTubers claim that the use of game footage falls under Fair Use, and game developers generally tend to allow them to continue because of the attention it brings to their products. But should an entity not want that attention, as Vanaman clearly points out, it seems within their rights to revoke that privilege. Even if the developer has said in the past that such use was completely fine.
Nope! Fully revocable at any moment with no notice required. https://t.co/0H2zHhIMm4

— Video Game Attorney (@MrRyanMorrison) September 11, 2017
It's not going to be the last we hear of this, and it will be interesting to see if other developers take up the challenge Vanaman has laid out for them. How much it will affect PewDiePie personally is quite easy to speculate on, but it's just another example of the world's biggest YouTube personality crossing far too many lines.
Last Updated: September 11, 2017